Jurassic World: Dominion Dominates Fandom Wikis - The Loop
Play Sound
Honda NSX
Honda
aka
Acura NSX
Production
1990-2005
Class
Sport/Luxury sport
Body Style
Two Seater/ Coupe
Length
174.2 in (4425 mm)
Width
71.3 in (1810 mm)
Height
46.1 in (1170 mm)
Wheelbase
99.60 in (2530 mm)
Weight
2711.7 lb (1230 kg)
Transmission
4-Speed Automatic Overdrive
5-Speed Manual
6-Speed Manual Overdrive
Engine
3.0 L C30A V6
3.2 L C32B V6
Power
290 hp @ 7100 rpm
224 lb-ft of

torque

@ 5500 rpm
Similar

Ferrari 348




Chevrolet Corvette

Designer
Chief Designer: Ken Okuyama
Executive Chief Engineer:Shigeru Uehara
The Honda / Acura NSX was introduced in 1990 and began production in 1991 at a time when the Japanese constructor was dominating the world of Formula 1 motor racing. The first NSX was sold to George Lucas but possibly the most influential automotive "apostle" of Honda engineering was Gordon Murray, later to design the world famous McLaren F1 Supercar. The NSX was conceived as a two seater coupe. The all aluminium NSX body never suffered any radical changes the biggest changes were made in 2002 when it received a facelift with fixed headlights and various minor cosmetic refinements such as xenon HID headlamps. The fixed roof NSX was dropped for the 2002 model year. The advanced all alumium suspension was revised further still and the NSX received larger wheels and tires. In addition, the NSX was now made available in a number of exterior colors with either a matching or black interior to provide a number of possible color combinations."NSX" is an acronym for "New Sportscar eXperimental" when it was presented (as NS-X) at the Chicago Auto Show in February 1989 and at the Tokyo Motor Show in October 1989. Internal Honda sources say the X initially stood for unknown in the codename of the car while it was in development.
See Wikicars' comprehensive Honda NSX Review.
Recent Changes
[
]
The first generation NSX was discontinued after the 2005 model year to make way for another Honda Sports Concept car. The original design was so far ahead of its time in the premium performance segment, that it's style made a permanent impact with only one generation. Competing with

Corvettes

,

Ferraris

and

Lamborghini

, the two seater was powered by Honda's famous V-6 powerplant directly derived from the Japanese companies successes in Formula 1 motor racing.
The NSX is now in development again, and enthusiasts might wonder what will power the 2nd generation. Leaks from Honda and rumour in the motor trade suggests a completely revised front engined V10 powerplant but concensus is less common on the even more heavily revised, some say "over-designed" body styling.[1][2]
Styles and Major Options
[
]
First generation NSX owners were quietly satisfied to drive a chassis tuned for Honda by world renound F1 World Champion Ayrton Senna. They were even more happy with the House of Pininfarina who championed a body design many thought gave Ferrari more than a run for its money. Other NSX owners were happy to drive an expensive Japanese supercar whose design did not catergorise them alongside Premier League Footballers.
Pricing
[
]
Today's actual prices for the MAKE MODEL can be found at CarsDirect.
MODEL Trims

Trim1

Trim2

Trim3

Trim4

MSRP

$Price1

$Price2

$Price3

$Price4

Invoice

$Price1

$Price2

$Price3

$Price4
Gas Mileage
[
]
As seen on the FuelEconomy.gov website, the City/Highway MPG averages are as follows:
Trim

Trim1

Trim2

Trim3

Trim4

MPG

c/h

c/h

c/h

c/h
Reliability
[
]
While Honda had already christened a purpose built facility to manufacture the NSX at the Kanekanzawa R&D Plant, Tochigi, Japan (1990-2004) and later Suzuka R&D Plant, Suzuka, Japan (2004-2005) they went even further to ensure the car, its chassis and engine development were all in perfect pre production synchronicity when they acquired the services of Honda Formula 1 driver Ayrton Senna who ran a testing programme at the Suzuka International Racing Course (an F1 accredited race circuit actually owned by the Honda Motor Company) to fine tune the chassis of the NSX. Along with the advanced all aluminium suspension and its mid engine layout, Senna's technical input and opinion was invaluable and directly attributed as being responsible for the race car standard handling of the NSX.
Safety
[
]
Photos
[
]
Colors
[
]
Formula Red
Berlina Black
Kaiser Silver Metallic
Grand Prix White
Spa Yellow Pearl
Monte Carlo Blue Pearl
Main Competitors
[
]
When the NSX was introduced by Honda the international motoring press saw it as a valid modern day Supercar competing directly against major European Supercars cars like Porsche, Lamborghini and Ferrari. The effect of the Asiatic automotive tsunami caused many of those traditional sleepy Supercar companies to change their designs and engines and some say even their philosophy.
Unique Attributes
[
]
The NSX was the worlds first production road car to boast not only an all aluminium body, but also an all aluminium engine block powering a race track influenced monocoque chassis. While Honda were actively writing motoring history with some of the most significant wins in Formula 1 with Williams Grand Prix Engineering, and later McLaren who poached Honda power after the Japanese engine maker broke Ron Dennis and TAG Posche's domination of F1 during the 1986 and 1987 championship seasons.
Many unique features usually seen only on powerful F1 racing cars of the day where engineered into the NSX blueprint to place it a the forefront of Japanese automotive engineering. Switchable traction control and a limited slip differential ensured drive was delivered to the rear wheels of the NSX, harnassing the powerful engine output to maintain traction and minimise wheel spin in any road conditions and with consideration to correcting extreme or erroneous driver input.
Resale Values
[
]
Trim

Trim1

Trim2

Trim3

Trim4

MPG

$

$

$

$
Criticisms
[
]
Technical problems are few and long term owner/driver reports read very favourably for an expensive and technical supercar which has held is price well. One of the most strange, but common faults, reported by NSX owners worldwide was the collection of water from condensation in the rear brake light clusters caused by the high temperature of the Honda's mid engine placement in the chassis. It was not unusual for owners to have to drill small holes in the light clusters to drain away several centimetres of water. Aside from that the Honda was a remarkably sound design package and was famously reported by Gordon Murray, McLaren F1 Supercar designer, as one of his original inspirations for the McLaren F1 Supercar concept.
Previous Generations
[
]
Manufacture and release
[
]
Upon its release in 1990, the NSX was a design ahead of its time. The car was intended to showcase Honda's racing technology, exemplified by the NSX's ultra-rigid, ultra-light aluminium monocoque chassis, titanium connecting rods and high-revving capabilities. The car's high chassis rigidity and cornering/handling prowess were the results of Ayrton Senna's direct input with NSX's chief engineers while testing at Suzuka Circuit during its final development stages. The NSX was initially assembled at the purpose-built Takanezawa R&D Plant in Tochigi from 1989-early 2004, which then moved to Suzuka Plant for the remainder of its production life, by approx. 200 hand-picked staff from various Honda factories. In addition to their renowned skills, each of them must have at least ten years of experience in car assembly and were interviewed extensively for their degree of passion and devotion to the project before they were finally chosen.
Wheels magazine Australia awarded the Honda NSX the 1991 Car of the Year award.
Despite the NSX's current age, it still has a strong base of fans and supporters. Honda and majority of car enthusiasts describe the NSX as a supercar based on its styling, body type, drivetrain layout, packaging, and most especially in the area of car handling. Few others have disagreed, claiming the NSX does not qualify for exotic car/supercar status because it's not of European origin and is not powerful enough compared to today's newer offerings, although its 270 rated horsepower at debut in 1990 was only 30 horses shy of the 300 lbs. heavier Ferrari 348, NSX's direct rival. Because of its lighter weight, the NSX was slightly faster than the 348 in straight-line acceleration. Still, for a time, it sported the highest per-litre specific output of any road-going naturally aspirated V6 in the world and is exceptionally fast for the motor's relatively low power output versus comparable "supercars". Post-1997 3.2 liter North American Acura examples are commonly known to achieve a 13.3 second quarter-mile time (1997-2005 model year NSX-T; The 149 lbs. lighter Zanardi Edition NSX is closer to 13 sec. flat), while the Japanese NSX-R (2002+) is known to perform 12.8 second quarter-mile time. The surprising performance is due mostly to a high 8,000 rpm redline, flat power curve, short gears, and mid-engine layout.
On July 20, 2005, mere days after the announcement of the closure of current NSX production, Honda CEO Takeo Fukui announced that a new NSX was under development and would sport a Formula 1-inspired V10 motor, with speculation that it might have the SH-AWD (Super Handling All Wheel Drive) system from the Acura RL. In addition, he stated it would be ready within three to four years.
Refinements and versions
[
]
Honda designers shocked the exotic car world when it introduced the NSX in 1990. Honda R&D had started at the front with a car concept based on the all round visibility and cockpit forward engineering of an F16 fighter aeroplane housing the NSX driver midship in front of an eye catching body combining aeorodynamics with an iconic and exotic supercar wedge shape providing a slippery wind coeficient of only 0.32 (a shape also championed by the Ferrari Testarossa and 308) and one that would remain basically unchanged by Honda for the NSX entire production life. To back up the high impact NSX styling, the mechanical specifications were right out of a race car too. The NSX featured a super-light all-aluminum chassis, body, and suspension a first for a production car. Total weight of the entire bare aluminum monocoque was only 200kg and for Honda fufilled their goal of placing the NSX closer to the race track than any other production supercar. The NSX suspension was an advanced double wishbone suspension, mounted at both ends on an all aluminum subframe. The Honda powerplant was an F1 inspired V6 engine mounted midship and featured Honda's unique Variable Valve Timing and Electronic Lift Control (VTEC) with six individual platinum spark plug housed in their own ignition coils firing titanium connecting rods. It was a unique automotive marriage well ahead of its time and the very first application of Hondas VTEC in a vehicle offered outside of Japan.
First Generation NSX-R (JDM)
[
]
Refining the NSX concept still further beginning in 1992 Honda produced a limited number of around 500 NSX-Rs exclusively for the Japanese domestic market (JDM). Major changes included a blueprinted engine now producing over 280 BHP in stock form, a short ratio gearbox, more aggressive uprated and tuned suspension and even further weight reduction to 1230 kg from the normal NSX weight of 1350 kg. The NSX-R was attack minded with race track oriented engineering and gained weight savings by dumping sound deadening material, audio, electric windows, and air conditioning equipment in an effort to reduce road weight. These items still remained available to the NSX-R owner for a hefty premium as optional extras. Production of the NSX-R continued until 1995 when the parent company addressed the problem of global NSX sales by returning to the production model and not only adding several modifications and additional features but, in the UK, slashing £10,000 from the retail showroom price which had by then topped £70,000 plus optional extras.
NSX-T
[
]
In 1995 the NSX-T with a targa top roof was released in Japan as a special order option. In North America of that same year the NSX-T replaced the standard coupe entirely as the only trim available since, with notable exceptions of Zanardi Edition NSX in 1999 and a handful of special dealer-ordered post-1997/pre-2002 3.2 liter coupes. The removable roof hurt the chassis rigidity of the NSX and added about 100 pounds of structural reinforcements. In addition to this major change, the suspensions have also been softened noticeably to improve ride and comfort. All roofs were now body colored instead of black although in Japan the 2 color tone black roof + body color is still available in Japan as optional feature. Finally available on the manual transmission version NSX was the electric power steering previously only available in the automatic version.
1997 Performance-Enhancing Changes (Worldwide)
[
]
1997 brought the biggest changes to the performance of the current generation NSX for the Japanese domestic versions and abroad. For 1997 engine displacement increased from 3.0 L to 3.2 L. This new 3.2 L C32B engine gave it slightly more rated power. This improved horsepower from 270 hp to 290 hp while torque increased from 210 to 224 ft·lbf (manual transmission only). Another big change was the change from a 5-speed transmission to the current 6-speed manual. The combination of slightly-increased horsepower and torque, 6-speed manual, and optimized gear ratio produced considerable improvements on the dragstrip. The new NSX rang up better numbers than the horsepower and torque improvements may suggest over previous model NSXs. 0-60mph time dropped from 5.4 seconds to as low as 4.5 seconds for the NSX-S Zero. Other notable changes include a brake rotor size increase from 12 inches to 13 inches, a new aluminum alloy to reduce weight and increase rigidity, and a transponder in the key.
NSX-S, S-Zero (JDM)
[
]
Along with the engine enlargement in 1997, Japan exclusively received the NSX type S (NSX-S) and NSX type S Zero (NSX-S-Zero), weighing in at 1320 kg and 1280 kg, respectively, and both with stiffer suspension than the normal NSX.
Alex Zanardi Edition NSX
[
]
Produced exclusively for the U.S. Domestic Market (USDM), the Alex Zanardi Edition NSX, basically a JDM NSX-S variant, was introduced in 1999 to commemorate Alex Zanardi's 2 back-to-back championship wins for Honda/Acura in 1997 and 1998 in the CART Champ Car series. Only 51 examples were ever built, available only in New Formula Red to reflect the color of the Champ Car Zanardi drove for Chip Ganassi Racing. Number 0 was a press car that appeared in auto shows across the country. The same car was also featured in Car and Driver for its July 1999 issue. In June 1999 Road and Track's supercar handling test, driven by Mario Andretti, along with Dodge Viper GTS-R, Lotus Esprit, Porsche 911 Carrera 4, Ferrari F355 Spyder, and Chevrolet Corvette C5 Coupe, Zanardi number zero almost walked away a victor - it lost 1st place to 911C4 by merely 1/2 point based on Andretti's personal preference for the Porsche's All-Wheel Drive capability. This NSX was eventually sold to a private individual. Number 1 belongs to Zanardi himself and was NOT given a North American VIN number and registered elsewhere unknown, rumored to have been modified by Honda with hand-activated throttle, braking, and shifting mechanisms to accommodate Zanardi's current physiological state since the Lausitzring crash in 2001. Number 2 through 50 were sold to the U.S. general public - Some dealers across the country with previous high NSX sales will receive one or more, most will receive none. Visible signs that differentiate the Zanardi Edition NSX from pure JDM Type S NSX are the serial-numbered brushed-aluminium plaque adhered to the rear bulkhead with engraved Acura logo and Zanardi's signature, the black red-stitched leather/suede seats and the airbag-equipped Acura OEM steering wheel, in contrast to the racier Honda-Logo Momo wheel especially commissioned for JDM Type S, S-zero, and R models. Internally, however, is nearly identical to Japanese-Spec NSX Type S (NSX-S).
"Facelifted" NSX (Worldwide)
[
]
The biggest exterior changes for the NSX came in 2002 when it received a facelift with fixed headlights and various other cosmetic refinements such as xenon HID headlamps (see photo from LA Autoshow 2003). The fixed roof NSX was dropped for the 2002 model year. The suspension was revised and the NSX received larger wheels and tires. In addition, the NSX was now available in a number of exterior colors with either a matching or black interior to provide a number of possible color combinations.
Second Generation NSX-R (JDM)
[
]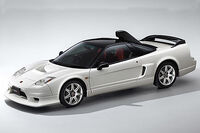 A second iteration of the type-R dubbed NSX-R was released in 2002, again exclusively in Japan. The NSX-R has a more aggressive rear spoiler and hood vent, along with various refinements to reduce weight to 1270 kg. Under the body, panels and air fences in the front, along with a small rear diffuser serve to produce balanced "negative lift", in other words, downforce. The subtle changes along with its renowned handling have kept NSX-R in contention on the track even against considerably higher-powered cars, such as the Ferrari 360 Challenge Stradale and the Porsche 911 (996) GT3, whose Nordschleife lap time it tied, at 7 min. 56 sec.
A more agile, more responsive, and quicker limited edition NSX called the NSX-R GT was later released. This model was limited to a production run of 5 cars, at a cost of US$ 462,400. This NSX was created to help Honda comply with the Super GT production-based race car homologation requirements. It's easily identifiable by the non-functional snorkel attached to the roof of the car (the snorkel is fully functional in the Super GT race cars), lower and widened body, and more aggressive aerodynamic components.
Second Generation NSX-S (JDM)
[
]
The second iteration NSX-S, sold exclusively in Japan, continues with the face-lifted NSX keeping the weight at 1320 kg.
In motorsport
[
]
Since the beginning of the NSX's production, the car has been used as a safety car at the Suzuka circuit, even for the Japanese Grand Prix in its early years of production and is still used at the circuit. The car is also used for the same role at Twin Ring Motegi, the other circuit owned by Honda.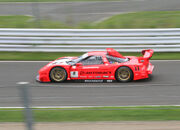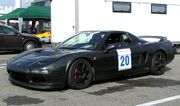 24 Hours of Le Mans
[
]
The NSX made three appearances at the 24 Hours of Le Mans, in 1994, 1995 and 1996.
In 1994, three Honda NSXs were entered in the 1994 24 Hours of Le Mans. Cars numbers 46, 47 and 48 were prepared and run by team Kremer Racing Honda, with Team Kunimitsu assisting and driving the number 47 car. All were in the GT2 class, and all completed the race, but placed 14th, 16th and 18th.
In 1995, three Honda NSXs were entered in the 1995 24 Hours of Le Mans. Honda's factory team brought two turbocharged NSXs which were entered in the GT1 class numbered 46 and 47. Car 46 was Not Classified (failed to complete 70% of the distance of the winner) and car 47 Did Not Finish (retired for clutch & gearbox failure). The third NSX, number 84, was prepared as a naturally aspirated car and run by Team Kunimitsu Honda in the GT2 class. This NSX, driven by Keiichi Tsuchiya, Akira Iida and Kunimitsu Takahashi placed 8th overall and first in the GT2 class after completing 275 laps.
In 1996, for the 1996 24 Hours of Le Mans, only the Team Kunimitsu Honda NSX returned, with the same drivers. It completed 305 laps to finish in the 16th position overall, and third in the GT2 class.
Super GT
[
]
For use in the Super GT, the NSX is highly modified (as allowed by series technical regulations). The most notable change would be in the position of the engine, which is now mounted longitudinally, instead of transverse. Similar to the setup used in modern Lamborghinis the gearbox is located in the center tunnel under the cockpit connected to the rear differential by a driveshaft. In the most recent version, the engine is fed via a roof mounted snorkel, similar to the airbox of an F1 car. The engine can either be turbocharged or naturally aspirated, depending on the class and on the rules. The NSX has always been one of the top three cars in the series, alongside the Toyota Supra and the Nissan Skyline GT-R. The NSX then took the JGTC GT500 class championshp for the Dome Mugen Project in 2000. In 2004, the M-TEC NSX took the championship in the GT300 class. It's also notable that while Toyota and Nissan have replaced their cars with the Lexus SC430 and Nissan Fairlady Z respectively, Honda still runs the NSX in the Super GT.
Worldwide
[
]
Design quirks and oddities
[
]
Famously reported by Gordon Murray, chief McLaren F1 Supercar designer, as one of his original inspirations for the McLaren F1 Supercar concept, Murray ran an NSX for seven years and in that time claimed he had never adjusted the climate control setting once. After driving an NSX prototype with Ron Dennis at the Tochigi Research Center test course Murray recalled being moved to thinking "It is remarkable how our vision comes through in this car."
Awards
[
]
See also
[
]