Jurassic World: Dominion Dominates Fandom Wikis - The Loop
Play Sound
Honda Integra

Manufacturer

Honda
Also called
Acura RSX
Production
2002–2006
Assembly

Suzuka, Mie

,

Japan

Predecessor
Acura Integra

Class

Compact

/

Luxury Car

Layout

FF layout

Engine

02-06 Base
2.0L 160 hp I4

K20A3

02-04 Type-S
2.0L 200 hp I4
K20A2

05-06 Type-S
2.0L 210 hp I4

K20Z1

Transmission

5-speed automatic
5-speed manual


6-speed manual

Wheelbase

101.2 in (2,570 mm)
Length
172.2 in (4,374 mm)
Width
67.9 in (1,725 mm)
Height
2005-06: 54.9 in (1,394 mm)
2002-04: 55.1 in (1,400 mm)

Curb weight

2970 lb
Related
Acura EL
Acura CSX


Honda Civic




Honda CR-V




Honda Element
The Honda Integra DC5 (Japanese: ホンダ インテグラ DC5) is a Japanese performance sports car, which was also known as the Acura RSX in North America. It is available in base and "Type-S" models in North America, and a "Integra iS / Integra Type S" and "Type R" version sold in Japan and Oceania. However, the "Type R" sold in Oceania is very similar to the "Type-S" sold in North America, and the Integra line naming in Oceania has recently been realigned to be similar with North American conventions.
Canada had three models: Base (cloth interior, no sunroof, steel wheels with wheel covers), Premium (leather interior, sunroof, alloy wheels) and Type S. In other places, (e.g. Hong Kong, Singapore only the base version is available.
This model is the final generation of the Honda Integra; afterwards production ceased.
The Integra suspension employs MacPherson struts in the front and double-wishbone suspension in the rear. This engineering decision disappointed some Honda enthusiasts who had come to appreciate Honda's philosophy of employing double-wishbones for both front and rear suspensions. However, the K-series engine proved to have significant potential for tuning, a trait shared with the B-series engines previously employed in Integra and certain performance-oriented Civic models. The K-series engine features intelligent VTEC or (i-VTEC), which electronically adjusts valve lift, valve duration and valve timing, giving the 2.0 L engine a flatter torque curve relative to previous VTEC implementations which only adjusted valve lift and valve duration.
The base RSX has the K20A3 motor with an output of 160 hp (120 kW) and is offered with either an automatic or a five-speed manual transmission; the Type-S has a 200 hp (150 kW) (2002–2004) K20A2 or 210 hp (160 kW) in 2005 K20Z1 motor and a short-throw 6-speed manual transmission which has been linked to many technical problems with inside components such as synchro and gears 3 and 5[citation needed]. In 2005 the RSX Type-S received camshafts, b-pipe and muffler, 4.7 final drive ratio, crankshaft pulley and the intake snorkel duct from the Japanese model Honda Integra Type-R. Another major change made to the inline VTEC-i engine was the use of a timing chain rather than a timing belt, which reduced maintenance needs.
The Honda Integra Type-R, sold in Japan has reduced weight, a 220 PS / 164 kW / 217 hp (162 kW) K20A I4 engine (Japan-only; Oceania models have an engine similar to the Acura RSX-S), as well as a limited slip differential (LSD) and stiffer springs and shocks, 4 piston Brembo brakes, 17" wheels on Bridgestone Potenza tires, Recaro suede seats, body trim, and more.
Specifications
[
]
Engine
2005 Type S
No. of cylinders: 4
Bore & stroke: 85.85 mm (3.38 in) x 85.85 mm (3.38 in)
Total displacement: 1998 cc
Maximum power: 210 bhp (157 kW) @ 7800 rpm
Maximum torque: 143 lb·ft (194 N·m) @ 7000 rpm
Performance
[
]
0-60 mph: 6.2 sec[1]
Top speed : 136 mph (219 km/h)[1]
Standing 1/4-mile: 14.9 sec @ 95 mph[1]
70 mph-0 mph braking distance : 181 ft (55 m) [1]
300 feet (91 m) skidpad : 0.86 g [1]
EPA Fuel Economy: 24 mpg-US (9.8 L/100 km; 29 mpg-imp) city/31 mpg-US (7.6 L/100 km; 37 mpg-imp) highway[2]
Replacement
[
]
Although it had been a relatively strong seller for Honda, the RSX did not fit within the confines of Acura's re-structured market strategy, formulated after the decision to take the Acura brand worldwide (previously, the Acura nameplate has appeared only in North America, elsewhere in the world the same models are sold as Hondas). With the introduction of the similarly powerful and less expensive 2006 model-year Honda Civic Si to the marketplace, the decision was made to discontinue production of the RSX, with the final units built in summer 2006. Because of its lower pricing and longer list of available options, Honda considered the new Civic Si to be a more viable choice for performance minded young men, who were the most common buyers of RSXs. The TSX would replace the Acura RSX as Acura's entry level nameplate starting in 2007.
Changes from 2004 to 2005
[
]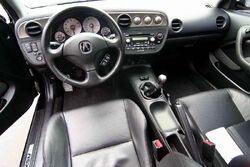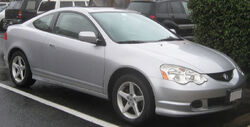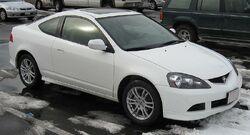 Revised suspension tuning for increased handling precision and a smoother ride
Ride height reduced by

Template:Convert

Optimized damper and spring settings
Firmer stabilizer bars (front and rear for Type-S, front for RSX)
Bushings at suspension installation points were optimized
Inversely wound front coil springs
Refined steering system for enhanced feel and quicker response
Swifter steering ratio
Stiffer steering column
Pump flow increased by seven percent
Kickback reduction valve
Optimized braking system for enhanced stopping power and feel
Pedal stroke decreased
Master cylinder diameter increased
Brake pedal toe rigidity increased
Larger diameter 17-inch sport design alloy wheels and 215/45R17 all-season high-performance tires
Body rigidity increased 15 percent in front and 21 percent in the rear through the application of reinforcements at key areas
Vehicle noise and vibrations reduced
Engine damper added to front subframe to reduce engine rocking and vibration transmitted from the engine to the cabin
Insulation material added at key points on doors and roof to reduce road noise
Side-mirror gaps sealed and weather strip added
New front and rear bumper designs
Redesigned headlight and taillight assemblies
Restyled signature 5-sided Acura grille
Redesigned side sill garnish
Four new exterior colors: Magnesium Metallic, Vivid Blue Pearl, Jade Green Metallic, Blaze Orange Metallic
Freshened interior design
Deeply bolstered front seats with thicker cushions
New chrome and titanium-look accents
Meter faces changed from metallic to white
2005 & 2006 RSX Type-S additional enhancements:
The engine intake and exhaust modifications that boost the power of the Type-S models to

Template:Convert

at 7800 rpm, compared to

Template:Convert

at 7400 rpm on the previous model.
The '06 Type S model has the same bhp as the '05 model. SAE HP measurement ratings changed from '05 to '06.
Higher performance camshafts sourced from the Type-R engine
Air intake duct enlarged for increased air flow
Larger diameter exhaust pipes to increase exhaust flow
Catalytic converter optimized to reduce exhaust back pressure
Larger diameter front strut tower bar
Bushings replaced by bearings on strut mount
Deck lid spoiler
6-speed transmission optimized with a lower final gear ratio for quicker acceleration and carbon synchronizers replacing brass on 5th and 6th gears for a smoother shift feel
Gear Ratios for the 2005 & 2006 revision
Gear Ratios 1st Gear - 3.267 2nd Gear - 2.130 3rd Gear - 1.517 4th Gear - 1.147 5th Gear - 0.921 6th Gear - 0.738 Reverse - 3.583 Final Drive - 4.765
Awards
[
]
The RSX was listed among

Car and Driver

magazine's

10 Best list

for 2002 and 2003.

John Lingenfelter Memorial Trophy

Won the September 2005 "Cheap Speed" comparison in

Car & Driver

in which it was pitted against the

Dodge SRT-4

ACR,

Subaru Impreza WRX

,

Chevrolet Cobalt

SS, and the

Saturn Ion

Redline.
Won the May 2002 "Four Wedges & a Bubble" comparison in Car & Driver in which it was pitted against the

Celica GT-S

,

Eclipse GTS

,

Hyundai Tiburon

GT

V6

, and the

VW New Beetle

Turbo S.
Won the "2001-2002 Sports Coupe" comparison from Edmunds.com in which it was pitted against the Celica GT-S,

VW GTi

,

Prelude Type SH

,

Eclipse GTS

, and the

Mercury Cougar

V6.
Won Spike TV's "Autorox" car awards show for tastiest tuner.
Listed as one of

Spike TV

's top 52 cars of all time.
Won top ten car in SCC in 2004.
Racing
[
]
Acura won the Manufacturers' Championship of the SCCA World Challenge Touring Car class in 2006, running both RSXs and TSXs. RSX drivers finished in 5th and 9th in the Drivers' Championship.[1] Kensai Racing is using RSXs and TSXs in the KONI Challenge Series.[2] Badged as a Honda, the DC5 won the British Touring Car Championship with Matt Neal in 2005 and 2006, for Team Dynamics (branded as Team Halfords after the title sponsor). The racing community has embraced the RSX enthusiastically. Both A2 and A3 versions of the K20 motor have shown a major potential for tuning and surprising durability when exposed to extreme conditions under aftermarket forced induction applications which in recent years became very popular and vastly available among street racers.
Safety
[
]
Driver deaths fatality risks statistics — published by the IIHS — rated the RSX and 15 other vehicles among the "Highest rates of driver deaths.", The RSX had 202 driver deaths per million registered vehicle deaths, while the average for the RSX class (2-door small) was 134. Other small cars on the list included the Kia Spectra hatchback (191), Pontiac Sunfire (179), Mitsubishi Eclipse (169), Dodge Neon (161), and the Chevrolet Cavalier 4dr (150).[3]
References
[
]
See Also
[
]