Jurassic World: Dominion Dominates Fandom Wikis - The Loop
Play Sound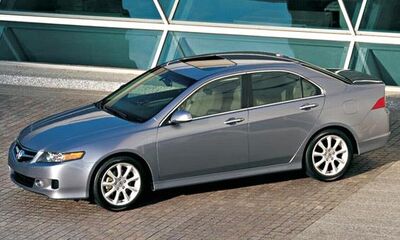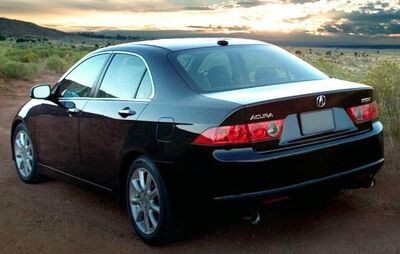 People seem to be loving the TSX, Acura's mid-level sedan that floats somewhere in between the smaller RSX coupe and the TL. Introduced for the first time in 2004, the TSX has gone on to become the second best-selling model for Acura, Honda's North American upscale marque. With an impressive list of standard features and a solid company reputation, the TSX looks to stick around for a while.

See also the main fact sheets for the Acura TSX.
High Points
[
]
High quality build
Luxury for affordable price
Style is casual and business appropriate
Ton of standard features
Low Points
[
]
Lack of power at low

RPM

Rear seat is unfomfortable for 5th passenger
Guage markings are awkward
No variety of options
The paint tends to chip prematurely. Unfortunately almost all Hondas and Acuras do this. This will become especially apparent on TSXs that see many highway miles or TSXs driven on rough or gravel roads.
The leather on some of the "high traffic" interior surfaces (i.e. seat side bolsters) tends to discolor and become bluish. This problem will be especially apparent on examples with the parchment color interior.
Performance and Handling
[
]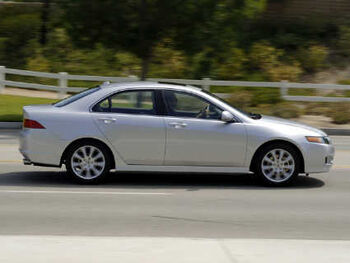 The styling of the TSX indicates that it is meant to be treated not just as a semi-luxury sedan, but a sporty one at that. A bit of driving will reveal that while it does handly nicely and provide a little bit of punch, it ultimately lacks the kind of power that some might like to think a car that looks like the TSX should have. Part of this is due to the fact that the engine, a 2.4L 4-cylinder cranking out 205hp, is not available in anything larger, like, say, the V6 in the TL. Outside of this, however, the TSX still has a sprightly flavor about it and it's fun to drive.
Along with the 4-cyl. engine, the TSX also comes in a choice between a 6-speed manual transmission or a 5-speed automatic. The 5-speed takes some of the fun out of driving the TSX, which responds enthusiastically to the manual shift. In high speed traffic, however, the aforementioned lack of power again becomes noticeable, as passing and accelerating are sometimes not as crisp as one might like them to be.
Handling, on the other hand, is superb. A four wheel double wishbone suspension stabilizes the ride, with help from its Vehicle Stability Assist mechanism, and torque steering on this front wheel drive car is rarely a problem. You won't have to worry too much when taking sharp turns or maneuvering in traffic.
Gas Mileage
[
]
According to FuelEconomy.gov, the city/highway numbers for the TSX are as follows:
manual transmission

- 22/30

automatic transmission

- 22/31
This earns it a 6th place spot in the Near-Luxury Car category for Fuel Efficiency on Autos.com.
Safety
[
]
In safety tests carried out by the NHTSA, the TSX performed extremely well. It received 5-star ratings for both front-impact tests and for front seat side-impact tests. For both rear seat side-impact and rollover tests, the TSX earned 4-star ratings. In competition with such cars as the Cadillac CTS, Jaguar X-Type, and models from BMW, Mercedes-Benz, and Audi in the Near-Luxury Car category for safety on Autos.com, the TSX managed a 3rd place showing with these ratings, tied with eleven other cars.
Reliability and Maintenance
[
]
Because the TSX only debuted in 2004, reliability information is not yet available for it. Acura does, however, have a superb reputation in this area, and this model should more than likely be no different.
Interior and Comforts
[
]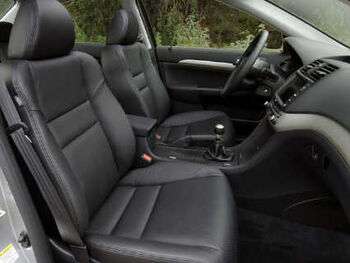 As has been mentioned, the TSX is almost fully loaded from the get-go. The only thing missing from its long list of amenities is a navigation system, which is available for another 2 grand. If you can do without the nav, however, you've still got yourself a nice bit of luxury in the TSX. The interior is equipped with leather interior, including heated front seats with seat memory; power sunroof, windows, locks, and heated outside mirrors; several storage bins; cruise control; dual zone climate control; and a premium AM/FM/XM/CD 8-speaker stereo system.
Space-wise, the TSX is as comfortable as any for the driver and front passenger, both of whom get bucket seats wrapped in the aforementioned leather. There is much attention to detail in the layout of the instrument panel and stereo controls, and guages are large. However, once you get the back seat, things get a little cozy. Legroom is acceptable, but it's just a tad less than one might like it to be. The two passengers seated behind shotgun and the driver will be fine, but the person seated on the raised center of the rear bench will find the ceiling a bit low and the cushioning a bit nonexistent. But it will do the job if you've got four friends and you all decide to go out for some ice cream together.
Exterior
[
]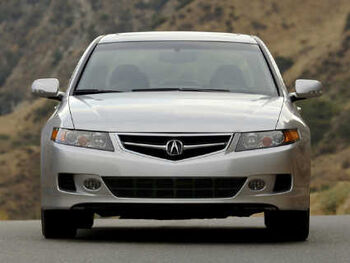 Almost contrary to its superior interior luxuries, the exterior of the TSX is comparatively simple and plain. This not to say, however, that the car looks boring, but it won't cause any double-takes or pedestrian pileups either. Acura has always designed its cars with sharp angles and aggressive lines, and the TSX is no exception. From its grille and headlights that swing upwards in a V, to its flat, straight taillights, the TSX sports an aerodynamic style that somehow manages to look both fun and sophisticated at the same time, albeit in an understated fashion. There are no frills here, just simple design techniques that play at something subconscious in us all, causing us not necessarily to notice it right away, but eventually to accept it as something good without really knowing why it appeals to us so much.
As far as options go, well, it's the same story with the exterior as it is with the interior: everything is standard. You've got 17" silver alloy wheels, a stainless steel chrome tailpipe, body colored bumpers and mirrors (which are also heated), and a chrome grill. The simplicity is almost charming.
Styles and Options
[
]
The Acura TSX is what it is. There is very little variation to be found in this car, because the base trim is the only one to speak of. Bear in mind, however, that this so-called "base" model comes equipped with an impressive list of standard features which, in effect, eliminate the need to offer multiple trim levels. The downside of this, of course, is that buyers who don't necessarily require all of the items provided won't be able to pick and choose what to pay for on their cars.
If, however, one finally settles upon the TSX, the car would automatically include such features as a power sunroof, automatic air conditioning, a premium AM/FM/XM 8-speaker stereo system, leather-wrapped telescopic tilt steering wheel, leather interior with heated front seats and memory, and power heated outside mirrors, locks, and windows, just to name a few. Whew! In fact, the only major optional accessory not included in the standard TSX package is a navigation system. So, even though the sticker price is near $28,000, you can be sure you're getting a loaded automobile.
External Links
[
]
Contributor Favorites
Community Sites