Jurassic World: Dominion Dominates Fandom Wikis - The Loop
Play Sound
Acura TSX



2004-2005 exterior

Manufacturer

Acura
Also called
Honda Accord Euro
Honda Accord Tourer
Honda Accord Saloon
Dongfeng Honda SPIRIOR

Model years

2004–2014
Assembly

Sayama

,

Japan

Predecessor
Acura Integra (sedan, US only)

Class

Entry-level luxury car

/


Compact executive car

Layout

FF layout

Related

Honda Accord

(JDM)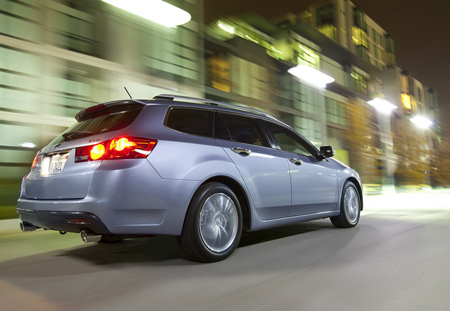 The Acura TSX was a mid-size near-luxury car manufactured by Honda, introduced in 2004 to compete with the Volvo S40 and Lexus IS. It is exclusively sold in North America under the Acura brand name. It fills the gap in the Acura lineup created by the cancellation of the Acura Integra sedan in 2001, and it replaces the Acura CL coupe, which had lackluster sales and was cancelled after 2003. The TSX is badge engineered from the CL-series Honda Accord sold in Europe and Japan. However, the TSX had a restyled interior and different suspension tuning when it was introduced. The interior is now standardized for all three markets. As of 2006, the TSX is the smallest sedan in the Acura model line, other than the Acura CSX sold only in Canada. Prices for the TSX range from roughly $27,000 to $30,000.
See Acura Wikis' comprehensive Acura TSX Review.
Recent Changes
[
]
The 2006 model year TSX's powertrain is comprised of a 2.4-L inline four-cylinder engine, a six-speed

manual transmission

(which features a magnesium casing, to reduce weight), and a

Front wheel drive

layout. A five-speed

automatic transmission

is optional and does not incur extra cost in the U.S. based on MSRP. Such is not the case in Canada.
On February 11, 2008, Acura unveiled teasers of the next-generation 2009 TSX on the internet despite its official debut at the '08 New York Auto Show. As of this writing, no other substantial information about the car has been released except the picture. The car was designed under

Jon Ikeda

. [3][4]
For model year 2011, Acura expands the TSX lineup with the TSX Sport Wagon. Officially debuted at the 2010

New York Auto Show

, the TSX Sport Wagon is essentially a euro-market Accord Tourer. It will be powered exclusively by Acura's 201 hp 2.4-liter inline-four mated to a Sequential SportShift 5-speed automatic transmission with steering-wheel mounted paddle shifters. According to Acura, the powertrain returns 30 mpg in highway driving.
Styles and Major Options
[
]
The 2006 TSX has been updated with a sportier exterior styling featuring a new front look, standard, integral fog lights, restyled wheels and a bolder rear look with standard side skirts. State of the art interior features have been added, including more standard safety features, and luxury features such as Bluetooth compatible HandsFreeLink(TM) wireless interface, a digital media auxiliary jack for MP3 connectivity and front power seats, with dual memory settings.
Recent Changes
[
]
Mention any minor facelifts or major changes made to the vehicle here.
Styles and Major Options
[
]
Certain vehicles come in different trim levels or body styles. Features and major options should be mentioned here.
Pricing
[
]
Add more fields as necessary.
MODEL Trims
2.4 litre I-4 Sedan
3.5 litre V6 Sedan
2.4 litre I-4 Tourer
(+Tech Pack)
Trim4
MSRP
$29,610
$35,150
$30,960 ($34,610)
$Price4
Invoice
$Price1
$Price2
$Price3
$Price4
Gas Mileage
[
]
Add more fields as necessary.
As seen on the FuelEconomy.gov website, the City/Highway MPG averages are as follows:
Trim
2.4 6MT
2.4 5AT
3.5 5AT
Trim4
MPG
21/29
22/31
19/28
c/h
Engine and Transmission
[
]
Specifications, details, graphs, pictures and other information regarding the powertrain is placed in this section.
Performance
[
]
Please make sure to write information of the vehicle's performance in a third-person point of view. This section should include information about the car's acceleration figures, handling, braking, etc.
If using information gathered from Road Test articles from a reputable automotive source, then please make sure to cite the quote.
Reliability
[
]
Safety
[
]
According to Acura TSX Safety Ratings, the TSX recieved 5 out of 5 stars for Frontal Impact for both the driver and passenger, and 5 out of 5 stars for Front Seat Side Impact Ratings. The TSX aslo recieved 4 out of 5 stars for Rear Seat Side Impact Ratings.
Photos
[
]
TSX sedan

TSX Sport Wagon
Colors
[
]
Exterior
Alabaster Silver Metallic
Arctic Blue Pearl
Carbon Gray Pearl
Deep Green Pearl
Glacier Blue Metallic
Milano Red
Nighthawk Black Pearl
Premium White Pearl
Royal Blue Pearl
Interior
Main Competitors
[
]
Audi A4

Infiniti G35

Lexus IS

Mercedes-Benz C-Class

Volvo S40
Hybrid Models
[
]
Acura has no plans to create a

hybrid

version of the TSX at this time.
Unique Attributes
[
]
If there are any features of this vehicle that sets it apart from other vehicles in its class, then mention those unique attributes here.
Interior
[
]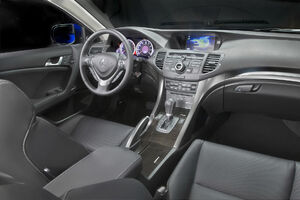 This section should include information on the interior's design, build quality, ergonomics, space (head and legroom, front and rear), features, stowage compartments and overall comfort and livability. Add pictures wherever applicable and keep information in a third-person point of view.
Sedan
Sport Wagon
Resale Values
[
]
Add more fields as necessary.
<MODEL> Year
Year X
Year X-2
Year X-3
Year X-4
Resale Value
$
$
$
$
Criticisms
[
]
"The TSX is a five-seater, but pity the fifth person." - New Car Test Drive
"Similar to other high-revving Honda four-bangers, the TSX mill doesn't deliver much grunt below 3000 rpm." - Car and Driver
Generations
[
]
Second Generation: (2009-2014)
[
]
Second-generation (CU2)

Model years

2009–2014
Assembly

Sayama

,

Japan

Body style

4-door

sedan


4-door

station wagon

Engine

2.4 L

K24Z3

201 hp (150 kW) and 172

I4


3.5 L

J35Z6

280 hp

V6

(2010-)

Transmission

5-speed

automatic


6-speed

manual

Wheelbase

106.5 in (2,705 mm)
Length
Sedan: 185.6 in (4,714 mm)
Wagon : 189.4 in (4,811 mm)
Width
72.4 in (1,839 mm)
Height
Sedan: 56.7 in (1,440 mm)
Wagon: 57.9 in (1,471 mm)

Curb weight

3470 lb AT


3400 lb

MT
Overview
[
]
The fully redesigned 2009 Acura TSX made its debut at the 2008 New York International Auto Show on April 11, 2008.[14] In terms of size, the 2009 TSX is larger than its predecessor. The new TSX has a 3.0-inch (76 mm) greater width, a 2.6-inch (66 mm) wider track and a 1.3-inch (33 mm) longer wheelbase than the current TSX; additionally, the length grows by 2.4 inches (61 mm). Curb weight also increased by approximately 100 to 150 pounds (45 to 68 kg). [15]
Acura is also planning on adding a wagon version of the TSX in Fall 2010 as a 2011 model[16] The wagon will only be available with the I4 engine and 5 speed automatic, it will also only be offered in FWD.[17]
The 2009 TSX was released on July 16, 2008. Making its debut on the new TSX is Honda's Advanced Compatibility Engineering body structure, which is designed to reduce accident impact on passengers. In the United States, the TSX comes standard with luxury features like leather seat upholstery, dual-zone climate control, power driver's seat with memory, sunroof, Xenon headlights, and adds a USB port music interface;[18] in Canada this configuration is known as the "Premium Package" as there is a base trim available with the four-cylinder TSX that has cloth seats and halogen headlights, and deletes the USB connector, memory seat function, and fog lamps. The TSX has an optional technology package, which includes a navigation system real-time traffic and weather, and a 10-speaker premium sound system with DVD-audio capabilities.
The 2010 model year TSX added a 3.5L 280 hp V6 engine, shared with the Acura TL.[19] It comes standard with the five-speed automatic transmission with paddle shifters and 18-inch alloy wheels, and is available in either Premium or Technology trims.

The fall of 2010 will see the introduction of a sport wagon variant of the 2011 model.[21]
Engine
[
]
The new TSX uses a base engine similar to that of the 2008 TSX. The engine is a 2.4-litre in-line 4 cylinder engine reaching 201 hp (150 kW) and 172 lb·ft (233 N·m) torque.[22] While the rated power of the new TSX engine is 4 hp (3.0 kW) lower than that of the 2008 model, Acura says the new engine distributes power across a much wider rpm range, which along with the increased torque, provides an increased feeling of power for the driver. The transmission choices remain 5-speed automatic and 6-speed manual, though the automatic version now comes with steering-wheel paddle shifters for optional manual shifting.
The TSX was slated to receive a high performance 2.2-litre i-DTEC clean turbodiesel engine in the 2010 model year; however, it was later announced that Honda had abandoned its plans to bring diesel engines to the U.S. and Japan in favor of hybrid gasoline-electric powertrains.[23] Instead, a 280 hp 3.5-litre V6 will be available in the 2010 Acura TSX.[24] The TSX V6 is only available with the 5-speed automatic transmission.[25][26]
The Acura TSX has a narrow price elasticity, as the base model 4-cylinder TSX is considered a good deal for a luxury car, however higher trims (particularly the V6 powered models) are considered too expensive as they compete directly with sport luxury cars such as the Audi A4 and Infiniti G[27]
Acura TSX Sportwagon
[
]
The 2011 TSX Sportwagon was introduced at the 2010 New York Auto Show.[28] The Acura TSX Sportwagon is touted[who?] as "the smart solution to an entry luxury buyer's need for everyday utility and practicality". It is powered by the same 201-horsepower Honda K engine 2.4L DOHC inline four cylinder engine and suspended on the same four wheel independent sports suspension as the sedan. In Europe the vehicle is sold as the Honda Accord Tourer.
The Sportwagon will cost slightly more than the base TSX ($30,960 USD vs. $29,610 USD, respectively,) and will come standard with a five-speed automatic transmission.[29] Acura Canada has decided not to sell the TSX Sport Wagon until an unspecified later date, citing market conditions as the reason for the delay
First Generation/Origins (2004–2008)
[
]
Overview
[
]
First-generation (CL9)



2006 updated exterior

Model years

2004–2008
Assembly

Sayama

,

Japan

Body style

4-door

sedan

Engine

2.4 L

K24A2

205[1] hp (153 kW) @ 7000 rpm and 164 lb-ft @ 4500 rpm

I4

Transmission

5-speed

automatic


6-speed

manual

Wheelbase

105.1 in (2,670 mm)
Length
183.3 in (4,656 mm)
Width
69.4 in (1,763 mm)
Height
57.3 in (1,455 mm)

Curb weight

3318 lb
Named as Touring Sportscar eXperimental. The 2004 model year TSX's powertrain consisted of a 2.4-litre inline four-cylinder engine, a six-speed manual transmission (which featured a special casing, to reduce weight), and a front wheel drive layout.[4] A five-speed semi-automatic was optional and did not incur extra cost in the U.S. based on MSRP;[5] however such was not the case in Canada.
2005 was the second year of the TSX and Acura updated it with XM Satellite Radio, heated door mirrors, a four-way power passenger seat and illuminated the steering wheel-mounted audio and cruise controls.[6] In 2006, the TSX was updated with slight tweaks to the engine (adding 5 hp); a sportier exterior styling featuring a slightly new front and rear treatment, standard side skirts, and standard, integral fog lights; and restyled wheels.[7] State of the art interior features have been added, including a Multi-information Display (MID) in the instrument panel, more standard safety features,[8] and luxury features such as an auxiliary MP3 player input and Bluetooth-compatible HandsFreeLink.[9] In 2007, a new Tire Pressure Monitoring System and an improved electronic rear view mirror were added, and the 2008 model year brought a few additional features and a new color to the TSX.
The Truth About Cars named the 2007 Acura TSX to its top ten best cars list, saying this was badge engineering done right.[10]
Engine
[
]
The K24A2 engine used in the TSX was related to the engine in the Honda Accord (7th generation), the Honda CR-V, the Honda Element, and to a smaller version in the Acura RSX and RSX Type-S. The K24A2 featured intelligent variable valve timing (i-VTEC) and produced 200 horsepower (150 kW) in this iteration. Also significant of the i-VTEC system on the TSX and RSX-s was that, unlike other Honda K-series motors, variable timing was used on both the intake and exhaust cams in its three rocker design.
For the 2006 model year, the K24A2 was updated to produce 205 hp (153 kW). The diameter of the throttle body and intake valves were slightly increased, along with the cam duration and valve lift.
In testing conducted by the United States based Insurance Institute for Highway Safety (IIHS), the Acura TSX received an overall rating of "Good" for frontal offset testing,[11] an overall rating of "Poor" rear crash protection,[12] and an overall rating of "Acceptable" for side impact testing
Worldwide
[
]
In Europe, the TSX is also sold in station wagon (estate) body style and is called the Accord Tourer. It features an electric tailgate which means you can fully open and close the tailgate via a button on the remote key.
It is sold in Australia and New Zealand as the Honda Accord Euro.
Design quirks and oddities
[
]
There are a couple problems of note. First, the paint tends to chip. This will become especially apparent on TSXs that see many highway miles or TSXs driven on rough or gravel roads. Second, the leather on some of the "high traffic" interior surfaces (i.e. seat side bolsters) tends to discolor and become bluish. This problem will be especially apparent on examples with the parchment color interior.
Awards
[
]
The Acura TSX was on Car and Drivers 10 Best list in its first three years of production (2004 - 2006).
Top-Value Car of 2004 in the category: Sedan under $35,000 from SmartMoney.com.
It has received the "Frontal Five Star Rating" from the NHTSAs frontal crash tests.
"Best Pick" in a Frontal Impact from the Insurance Institute for Highway Safety.
Racing
[
]
Realtime racing prepares a factory TSX to compete in the SCCA Pro Racing World Challenge GTS class. The factory TSX is refashioned to be stiffer and lighter, and includes motor work with raised compression, and a custom built sequential transmission. Acura won the Manufacturer's Championship for the Touring class in 2005 with the RTR TSX, as well as the Driver's Championship for Peter Cunningham. Acura returned in 2006 and won the Manufacturers' Championship of the Speed World Challenge Touring Car class for the second year in a row, running both RSXs and TSXs. TSX drivers finished in 3rd and 4th in the Drivers' Championship.[39] More success followed as Pierre Kleinubing won the Championship in 2007, and Peter Cunningham took it in 2008. Driving for RTR in 2009 is Peter Cunningham, Pierre Kleinubing, Toby Grahovic, Kuno Wittmer, and Jeff Courtney.
Sales
[
]
| Calendar year | US sales |
| --- | --- |
| 2003 | 18,932[2] |
| 2004 | 30,365 |
| 2005 | 34,856[3] |
| 2006 | 38,035 |
| 2007 | 33,037[4] |
| 2008 | 31,998[4] |
| 2009 | 28,650 |
| 2010 | 32,076 (incl 126 wagon)[5] |
See also
[
]
External Links
[
]
News & References
Find a Local Dealer
References
[
]
This page uses content from Wikipedia; see Acura TSX, which includes these contributors.