Jurassic World: Dominion Dominates Fandom Wikis - The Loop
Play Sound
Acura TL

Manufacturer

Honda
Production
1996–present
Predecessor
Acura Vigor

Class

Mid-size

luxury car

Body style

4-door

sedan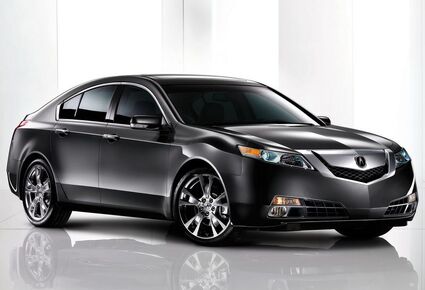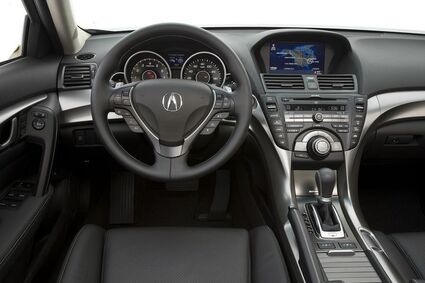 The Acura TL is a mid-size luxury car from Honda's luxury Acura marque. It was introduced in 1996 to supplant the Acura Vigor and was a rebadged Japan-market Honda Inspire sedan until the third-generation version. The TL combines all of the traits that people love about an Acura, a sporty car with the latest technology, into a near-luxury sedan that goes for a little more than $30,000. That's probably why the TL is Acura's best selling car. Its standard features include a Bluetooth hands-free cellphone system, XM Satellite Radio and leather seats.
The TL is also well-equipped for safety: it has anti-lock brakes, as well as stability and traction control systems. It received five stars from the National Highway Transportation Safety Administration (NHTSA) in its frontal and rear seat side crash tests, and four stars in its front seat side crash tests. The TL is assembled in the United States at Honda's plant in Marysville, OH.
See Acura Wikis' comprehensive Acura TL Review.
Recent Changes
[
]
The aging Acura TL is all-new for 2009. Though not set for sale until fall of 2008, Acura has released teaser images and some scant information regarding the second-generation model including rumours about the availability of two new engines. The first: a 280-horsepower 3.5 litre with power directed to the front wheels. The second (and more anticipated) is the 300-horsepower 3.7 litre mill already seeing service in the RL and MDX. Power from that engine will be planted into the ground by Honda's Super Handling All-Wheel Drive™ (SH-AWD®) system, it is expected. The new TL was designed under

Jon Ikeda

. [1]
A tire pressure monitoring system is standard on all models. For vehicle with the 6-speed manual transmission, torque steer has been reduces through changes to the engine control module.
Styles and Major Options
[
]
As with most Honda vehicles, most options are dealer installed. Factory options are limited to 5 speed automatic or 6 speed manual transmissions, Navigation System with speed sensitive guidance that calculates travel times based upon how fast you are driving. Contains Honda's voice recognition system that controls 290 navigation, climate control and audio system functions. The 6-speed manual transmission model is available with helical limited slip differential High-Performance tires.
Pricing
[
]
Today's actual prices for the Acura TL can be found at CarsDirect.
MODEL Trims
3.5 litre V6 FWD
3.7 litre V6 SH-AWD
Trim3
Trim4
MSRP
$35,105
$43,385
$Price3
$Price4
Invoice
$Price1
$Price2
$Price3
$Price4
Gas Mileage
[
]
As seen on FuelEconommy.gov:
Trim
3.5 litre FWD
3.7 litre SH-AWD Auto
3.7 litre SH-AWD Manual
Trim4
MPG
c/h
17/25
18/26
c/h
Engine and Transmission
[
]
The Acura TL is available with two engine options. The base FWD model is equipped with a 280 hp 3.5 litre V6 while the range topping SH-AWD model is powered by a 3.7 litre V6 developing 280 hp and 273 lb-ft of torque. Both models come with a 5-speed Automatic as standard, however, the SH-AWD is available with a 6-speed Manual.
Performance
[
]
Please make sure to write information of the vehicle's performance in a third-person point of view. This section should include information about the car's acceleration figures, handling, braking, etc.
If using information gathered from Road Test articles from a reputable automotive source, then please make sure to cite the quote.
Reliability
[
]
RECALL ALERT: On March 27, 2008, Acura issued a recall affecting 273,000 MY 2004-2008 TL due to a faulty power steering hose. [2]
Safety
[
]
Five stars from the National Highway Transportation Safety Administration (NHTSA) in its frontal and rear seat side crash tests, and four stars in its front seat side crash tests.
Photos
[
]
Colors
[
]
The following colors are available on the Acura TL:
Royal Blue Pearl
Alabaster Silver Metallic
Desert Mist Metallic
Redondo Red Metallic
Nighthawk Black Pearl
Anthracite Metallic
White Diamond Pearl
Competitors
[
]
The Acura TL's main competition include those sedans in the "near-luxury" category:
Audi A4

BMW 3 Series

Infiniti G35

Lexus ES 350

Lexus IS 350

Mercedes-Benz C Class
Unique Attributes
[
]
The

remote entry key fob

is driver specific. Each remote is programmed for a different driver. When activated to unlock the driver's door, the outside mirrors, driver seat position, radio presets are all changed to that driver's preferences.
The rear view mirrors will tilt downward when the car is placed in reverse (selectable via mirror adjustment control).
The

navigation system

is updatable via data DVD's.
Sports Sedan and Mods
[
]
A-Spec Performance Package (dealer installed) with sport suspension, 18 inch wheels, underbody and deck spoilers, performance brakes, sport steering wheel, and badging.
Criticisms
[
]
The voice recognition system often mis-interprets voice commands.
The steering wheel feel is considered too stale--not up to the level of a true sports sedan.
The trunk trim is minimal inside, especially for a luxury vehicle. Most dealers will add a trunk tray to spruce up the appearance of the trunk area.
Generations
[
]
Current Generation (2009 - present)
[
]
Fourth generation

Model years

2009–present
Assembly

Marysville, Ohio

,

USA

Layout

Front engine

,

front-wheel drive

/

all-wheel drive

Engine

3.5 L J35Z6 (280 hp)

V6


3.7 L J37A4 (305 hp)

V6

(SH-AWD)

Transmission

5-speed

automatic


6-speed

automatic


6-speed

manual

Wheelbase

109.3 in (2,776 mm)
Length
194.0 in (4,928 mm) (2012-)
195.5 in (4,966 mm) (2009-2011)
Width
74.0 in (1,880 mm)
Height
57.2 in (1,453 mm)

Curb weight

3699 lb (Base)


3948 lb (SH-AWD)
Related

Honda Accord

(2008)
Debuted for the 2009 model year, the Acura TL featured a more aggressive interpretation of Acura's latest styling vocabulary, known as "Keen Edge Dynamic."[6] Featured prominently on the front is Acura's controversial "Power Plenum" upper grille. The size of the car has increased slightly, and as a consequence the wheelbase has been stretched 1.4 inches (36 mm) to 109.3 inches (2,780 mm).[6] The car is also 6.2 inches (160 mm) longer overall, 1.8 inches (46 mm) wider and 0.5-inch (13 mm) taller.[6] Rear legroom improves by 1.3 inches (33 mm) and rear shoulder room increases by 0.5-inch (13 mm).[6] Structural rigidity was increased due to the use of high-strength steel in 47.6 percent of the chassis.[6]
The base TL is front-wheel drive and is powered by a 3.5-liter V6 that makes 280 hp (210 kW) and 254 ft·lbf (344 N·m) of torque, an increase of 22 hp (16 kW) and 21 ft·lbf (28 N·m) over the previous 3.2-liter V6.[6] The new TL SH-AWD ("Super-Handling All-Wheel Drive") replaces the previous TL Type-S and is powered by a 3.7-liter V6 that produces 305 hp (227 kW) and 275 ft·lbf (373 N·m) of torque, an increase of 19 hp (14 kW) and 19 ft·lbf (26 N·m) over the 3.5-liter V6 of the Type-S.[6] The 3.7L engine also uses VTEC variable-lift timing on both the intake and exhaust valves (the base TL and previous models only applied VTEC to the intake valves).
SH-AWD ("Super Handling" All Wheel Drive) is a multi-vectoring all wheel drive system designed more for performance than for simply providing traction in adverse circumstances. While cruising, the system sends 90% of the power to the front wheels and 10% to the rear wheels. Acceleration puts more torque on the rear wheels. The car can put up to 70% of the total available power to the rear wheels to assist with rapid acceleration, and of that 70%, 100% can be pushed to either the left or right wheel in order to assist the vehicle through a corner.
The brakes on the new TL have been increased in size, from the older 11.8" front disc and 11.1" rear disc to the now Ridgeline-sized 12.6" front discs and 13.2" rear disc, still incorporating an internal rear drum e-brake while maintaining hydraulic discs for the foot applied brakes. The bolt pattern on the car is no longer a 5x114.3mm but a 5x120mm for this generation.
The SH-AWD model also includes some interior refinements over the base model and is tuned for slightly firmer suspension and steering feedback. It is visually distinguishable from the base model on the exterior by its SH-AWD badge on the trunk, quad exhaust pipes (as opposed to dual exhaust on the base model) and larger air ducts in the front bumper to cool the larger brakes (the base model's turn signal indicators in the bumper extend all the way to the center.) The TL rides on 245/50R17 tires, while the TL SH-AWD has 245/45R18 tires with optional 245/40ZR19 summer performance tires.[6] Both models use electric power steering rather than hydraulic, and a revised five-speed automatic transmission featuring shift paddles on the steering wheel is standard equipment for both models.[6] Acura has announced that a manual transmission will be offered in the 2010 SH-AWD model.
The fourth generation Acura TL adds further electronic convenience items, now including a central multifunction display,[6] an eight-speaker 276-watt audio system with a six-disc CD changer, XM Satellite Radio, USB port connectivity (including full iPod control support), and Bluetooth Audio (for streaming music from a cell phone). Both models offer an optional Technology Package, which includes premium Milano leather seats, keyless start, a joystick-based (no longer touchscreen) navigation system updated with a new 8-inch (200 mm) full VGA display and the ability to provide weather information and traffic-based rerouting, and the Acura/ELS audio system with 10 speakers,[6] 440 watts of power, DTS CD compatibility for 5.1 surround sound, DVD-A, as well as an internal hard drive with 13 GB of storage dedicated for audio. With the ELS audio system, audio CDs are automatically ripped to the hard drive upon insertion for future playback. The navigation system also stores its map data on the hard drive (as opposed to the previous model's DVD-based storage), producing faster boot times.[7]
2012
[
]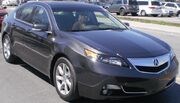 For the 2012 model, Acura offered new front and rear styling. Acura updated the controversial "beak" insert in the front grill, replacing it with a smaller insert that flows better with the headlights and creates a sleeker profile.[1] Aside from cosmetic changes, the new TL is now equipped with Honda's 6-speed automatic multi-clutch transmission to improve performance and efficiency. This transmission features downshift rev-matching with throttle blip and the ability to downshift 2 gears at a time. Additional new features include ventilated seats, new 60GB HDD, blind-spot information system, and upgraded wheels. The 2012 TL retains the base 3.5L and SH-AWD models' 3.7L engines but now gets 2 mpg more in the city (20 mpg) and 3 mpg more on the highway (29 mpg), thanks to less engine friction and the 6 speed automatic transmission. The 6 speed manual transmission will continue to be offered. The 2012 model is also 3dB quieter on the highway.[2]
Third Generation (2004 - 2006)
[
]
Third generation

Model years

2004–2008
Assembly

Marysville, Ohio

,

USA

Layout

FF layout

Engine

3.2 L

J32A3

(270 hp)

V6


3.5 L

J35A8

(286 hp)

V6

(Type-S only)

Transmission

5-speed

automatic


6-speed

manual

Wheelbase

107.9 in (2,741 mm)
Length
189.3 in (4,808 mm)
Type-S: 189.8 in (4,821 mm)
Width
72.2 in (1,834 mm)
Height
56.7 in (1,440 mm)

Curb weight

3480 lb
Related

Honda Accord




Honda Odyssey




Honda Pilot


Acura MDX
The first third generation Acura TL rolled off the assembly line on September 30, 2003. On October 6, 2003, the third generation Acura TL (the 3.2 moniker was dropped) was released for sale in North America. Developed mainly in the United States by a team led by Erik Berkman with bodywork penned by American Honda designer Jon Ikeda, the new TL is built in Marysville, Ohio, and is derived from the latest USDM Honda Accord. It is powered by a 270 hp (201 kW; later revised to 258 hp), 3.2 L 24 valve SOHC VTEC V6 engine mated to either a 5-speed automatic with SportShift or 6-speed manual.
As of March 2004, Honda offers to the public a factory-sanctioned "tuner package" version of the TL: the TL A-SPEC. This version features a suspension tuned by Makoto Tamamura, an indication of the TL A-SPEC's aggressive engineering. In addition, an underbody kit, spoiler, limited edition A-SPEC steering wheel, "A-SPEC" badge on the back, and 18 in wheels are standard issue on the A-SPEC package. When installed at purchase, the car's 4 year/50,000 mile warranty applies to the package as well.
The third generation TL is also the first car in the American market to include a 6 disc DVD-Audio system, output through an 8-speaker system, engineered by Panasonic and tuned by Elliot Scheiner. The system also plays back normal audio CDs as well as DTS audio discs, CD-Audio, CD-Rs and CD-RWs. The car is also equipped with Honda's Bluetooth HandsFree Link (HFL) system, integrated with the audio system, to allow for hands-free usage of one's cell phone (provided the phone also supports Bluetooth and is compatible with the HFL's hands-free profile). The driver can simply voice-dial the number and carry the entire conversation over the car's built-in audio system; when receiving a phone call a display will show caller ID if it is supported by the phone. The driver also has the capability to transfer current calls between the car and his or her phone when exiting or entering the TL. There is also a phone book which can store personal phone numbers within the car's memory. With the built-in XM Radio tuner, owners can elect to pay a monthly subscription after the complimentary 3 months subscription expires from Acura for XM Radio, which provides over 100 digital channels via satellite.
In early 2006 Acura began offering a dealer installed iPod interface for the factory audio system. This interface places a custom cable in the glove box and not only allows audio playback, but offers limited control of the iPod via normal audio system controls on the head unit and steering wheel. The system works in conjunction with software that loads voice recordings onto the iPod providing the ability to browse contents of the iPod audibly.
Rear of a 2005 Acura TL Sporting an Alpine-designed navigation system, the third generation TL also accepts voice commands like "Find nearest police station" to "Go home." The navigation system features an 8 in touch-screen LCD, which allows for easy viewing of the road ahead.
The JDM Honda Inspire debuted around 4 and a half months earlier (on June 11, 2003) and marked the branching out of the TL line from the Inspire. The Inspire is basically a seventh generation USDM Honda Accord V6 with minor trim changes, and the addition of Variable Cylinder Displacement, which shuts off half of the engine when not needed to boost fuel economy. The Saber was discontinued and the new Inspire is being sold at Clio, Primo, and Verno dealerships.
Honda is currently silent on the prospects of exporting the newest Acura TL to Japan, but sources point it out as highly likely, either being badged as the Honda Vigor (most likely) or Honda Saber. It is rumored that the TL might also make it to Europe, as the first and second generation Legends were popular there.
The TL became Acura's best selling luxury sedan in 2004 with more than 79,000 sold that year.
The debut of the Acura TSX took over from the TL as Acura's entry-level car for the United States; the TL is known for more as a luxury car, while the TSX is known for more of a balance between sport and luxury.
2007
[
]
The 2007 Acura TL is due for a refresh before a 2009 redesign. It will most likely receive clear taillights, turn signal blinkers on the side mirrors, and additional power with a revised intake/exhaust system. The Canadian TL is confirmed to have XM satellite radio starting in 2007.
2006
[
]
The 2006 TL received TPMS (Tire Pressure Monitoring System), a new computer (for manual transmission models only), and an active system to control torque steer. The new horserpower rating of 258 hp is due to a change in testing procedures, despite the engine remaining the same since 2004. The TL is still the best-selling luxury sedan in North America. Its main competitor is the Infiniti G35 sedan. Its indirect competitors are the BMW 3 Series, Mercedes-Benz C Class, Cadillac CTS, Lexus ES, Lincoln Zephyr/MKZ, and the Lexus IS.
2005
[
]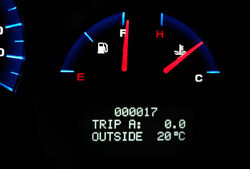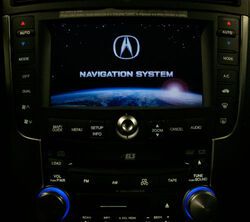 The 2005 TL received a passenger airbag cutoff switch and extra stitching on the front seats. There were several minor changes made (such as changes in seat belt anchor mounts) which are not published. With a very competitive MSRP range, the TL is often seen as an "Unbelievable Value For the Money" among car critics.

Second Generation (1999-2003)
[
]
Second generation
Also called

Honda Inspire


Honda Saber
Production
1999–2003
Assembly

Marysville, Ohio

,

USA

Layout

Front engine

,

front-wheel drive

Engine

2.5 L

J25A


3.2 L

J32A

,

J32A1

(225 hp)

V6


3.2 L

J32A2

(260 hp)

V6

(

Type-S

Models)

Transmission

4-speed

automatic


5-speed

automatic

(2000 and later)

Wheelbase

108.1 in (2,746 mm)
Length
1999–2000: 192.9 in (4,900 mm)
2001–03: 192.5 in (4,890 mm)
Width
70.3 in (1,786 mm)
Height
1999–2000: 56.1 in (1,425 mm)
2001–03: 53.7 in (1,364 mm)

Curb weight

3447 lb
Related
Acura CL


Honda Accord




Honda Odyssey




Honda Pilot


Acura MDX
The second-generation 3.2 TL (the 2.5 was dropped) was built in Marysville, Ohio, alongside the Honda Accord. These cars were imported into Japan and sold as Honda Inspire in the Honda Clio dealer network, and as Honda Saber in the Honda Primo and Verno dealer networks. The only difference between the two cars were the front grille; the Inspire and Saber were also available with a 2.5 L Honda J-series VTEC V6 engine exclusive to the Japanese market.
In 1998, Honda revealed the TL-X concept car, showing a preview of the second-generation TL which would debut a year later. The second-generation TL (now called 3.2 TL) was released in 1999 and was now derived off the USDM Honda Accord platform. It was available with a newly-designed 3.2 L 225 hp (168 kW) SOHC VTEC J32 V6 mated to a four-speed electronic automatic transmission with SportShift. The very first 1999 Acura TL rolled off the assembly line on August 4, 1998. The only option on the sedan was a hard drive-based navigation system.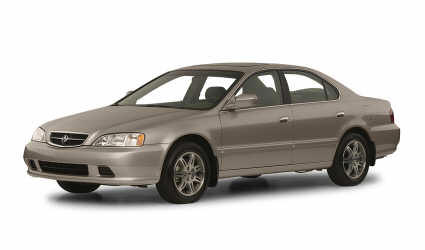 In the second year of production, the Acura TL was given slightly more features, including a five-speed automatic transmssion, with SportShift. The added gear allowed for slightly better fuel economy and acceleration when compared to the previous 4-speed automatic transmission with SportShift. The 5-speed automatic transmission often failed; a major problem was wearing of the third gear clutch pack, which gave off particles which would block oil passages so that oil could not flow where it was supposed go to shift and hold the transmission in gear. The transmission would slip, fail to shift, or suddenly downshift and make the car come to a screeching halt from expressway speeds. This problem was highlighted in the Los Angeles Times in September 2002. Consumer Reports took note and awarded the TL and CL the black spot, the worst rating for transmission reliability. Other notable changes include the addition of side impact airbags for the front passengers and a change of format for the navigation system. The 2000 TL switched the hard drive for a DVD-based navigation system. Now the entire continental United States was accessible with the navigation system; one could theoretically drive from one coast to the other with the new navigation system. The 1999 TL's navigation system stored the maps in zones; there were 5 different zones for the U.S.
In 2002, the TL got a minor makeover, with a refreshed front fascia, redesigned taillights, an in-dash CD changer as well as a few other features. A Type-S model was also added, adding 35 hp (26 kW) as well as 17 in wheels, firmer seats and suspension.
For the 2001 model year, a redesigned coupe version of the TL was introduced, the 3.2 CL. While it was mechanically identical to the TL, its sales never came close to that of its sibling model, and as a result, it was discontinued in May 2003. The transmission was still a problem in these vehicles even today (2006).
First Generation (1996-1998)
[
]
First generation
Also called

Honda Inspire


Honda Saber
Production

Production Date 1995–1998(US model)

Model Year 1996–1998
Assembly

Sayama

,

Japan

Layout

FF layout

V6




FF layout

I5

Engine

2.0 L G20A

I5


2.5 L G25A, G25A4 (176 hp)

I5


3.2 L C32A, C32A6 (200 hp)

V6

Transmission

4-speed

automatic

Wheelbase

111.8 in (2,840 mm)
Length
2.5TL: 191.5 in (4,864 mm)
3.2TL: 191.7 in (4,869 mm)
Width
2.5TL: 70.3 in (1,786 mm)
3.2TL: 70.9 in (1,801 mm)
Height
2.5TL: 55.3 in (1,405 mm)
3.2TL: 55.7 in (1,415 mm)
Related
Acura CL


Honda Accord




Honda Odyssey




Isuzu Aska




Isuzu Oasis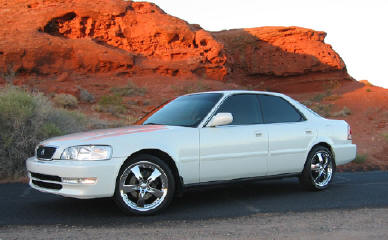 The 1996 2.5 TL was available with the 2.5 L 176 hp (131 kW) SOHC 20-valve 5-cylinder engine from the Vigor. The 3.2 TL used the 3.2 L 200 hp (149 kW) SOHC 24v V6 from the second-generation Acura Legend. The very first 1996 Acura TL rolled off the assembly line on March 28, 1995.
Although it was designed to replace the Vigor, it also technically replaced the Acura Legend coupe. The 3.5 RL (Honda Legend in Japan) that debuted alongside the TL was a large car designed for a soft ride, in marked contrast to the previous two generations of Legends which were sport sedans with taut proportions.
1997
[
]
In 1997, Acura added a standard power moonroof to all TL models. Additionally, all Acura TLs received a variable-speed intermittent wiper setting. The 3.2 TL had 205/65/15 tires and a V6 motor. The sport-targeted, 5-cylinder 2.5 TL was further fitted with new alloy wheels.
1998
[
]
For 1998, Acura made several previously optional features standard on the 2.5 TL. 1998 was the last year of TL production in Japan, as the model was being redesigned for production in the United States.

Design Quirks and Oddities
[
]
The vehicle has auto-off headlamps, but not an auto-on feature. The lights also do not automatically come on when the windshield wipers are used.
The sunglass holder is located in the door trim panel, not the headliner or console.
The doors are very heavy, and the hinge points (natural stopping points in the door travel) are too far out, making it easy to ding the door of the neighboring car if you are not careful.
Awards
[
]
2003 J.D. Power Initial Quality Study 3rd Winner (Entry luxury)
Sales figures
[
]
| Calendar year | US sales |
| --- | --- |
| 1999 | 56,566[3] |
| 2000 | 67,033 |
| 2001 | 69,484[4] |
| 2002 | 60,764 |
| 2003 | 56,770[5] |
| 2004 | 77,895 |
| 2005 | 78,218[6] |
| 2006 | 71,348 |
| 2007 | 58,545[7] |
| 2008 | 48,766 |
| 2009 | 33,620[8] |
| 2010 | 34,049 |
See Also
[
]
References
[
]
"2004 Acura TL A-SPEC: No assembly required to enjoy this factory-spec tuner package", an article by John Kiewicz on page 136 of the March, 2004 issue of Motor Trend.
"Honda's Unexpected Gear Shift", an article by John O'Dell in the September 11, 2002 edition of the Los Angeles Times.
External Links
[
]
This page uses content from Wikipedia; see Acura TL, which includes these contributors.