Acura SLX

Manufacturer

Isuzu Motors

Also called

Chevrolet Trooper




Honda Horizon




Holden Monterey




Holden Jackaroo




Isuzu Bighorn




Isuzu Trooper




Opel Monterey




Vauxhall Monterey

Production
1996–1999
(chassis DJ5)
Assembly

Fujisawa, Kanagawa

,

Japan

Successor
Acura MDX

Class

Mid-size

SUV

Body style

4-door

SUV

Layout

Front engine

,

rear-wheel drive

/

Four-wheel drive

Engine

3.2L 190 hp

V6

(1996-97)
3.5L 215 hp

V6

(1998-99)

Transmission

4-speed

automatic

Wheelbase

108.7 in (2,761 mm)
Length
183.5 in (4,661 mm) (1996-97)
187.8 in (4,770 mm) (1998-99)
Width
72.4 in (1,839 mm) (1996-97)
72.2 in (1,834 mm) (1998-99)
Height
72.2 in (1,834 mm)
Related

Isuzu Trooper
The Acura SLX was a mid-size sport utility vehicle (SUV) sold by the Acura division of Honda from 1996 to 1999. It is actually a re-badged lightly upgraded Isuzu Trooper and it was only sold in the United States. The SLX was later replaced by the Honda Odyssey-based Acura MDX in 2001. The Honda Pilot was an SUV that was also based on the Odyssey-derived MDX platform.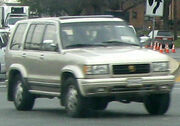 The SLX received a restyled front end for the 1998 model year, but continued to sell poorly and was ultimately discontinued after 1999. It is said that sales were affected by bad press when the 1996-1997 models were rated "Not Acceptable" by Consumer Reports for their tendency to roll over during testing. In a lawsuit brought by Isuzu against Consumers Union, the court found that some of the magazine's statements showed a "reckless disregard" for the truth.
The SLX from 1996 to 1997 had a 3.2-liter V6 gasoline engine with a maximum output of 190 hp and was replaced in 1998 by a 3.5-liter dual overhead cam V6 engine that produced 215 hp.
See Also
[
]