Jurassic World: Dominion Dominates Fandom Wikis - The Loop
Play Sound
Acura RSX
Acura
aka

Honda Integra

outside the US
Production
July 2001 - July 2006
Class
sport
Body Style
2-Door Hatchback
Length
172.4 in.
Width
67.9 in.
Height
54.9 in.
Wheelbase
101.2 in.
Weight
2,734-2,840 lbs.
Transmission
5-speed Manual
5-speed Automatic
6-speed Manual
Engine
2.0 liter

DOHC

inline-4

Power
155

hp

@ 6500 RPM
141

lb-ft @ 4000 RPM

201 hp @ 7800 RPM
142lb-ft @ 7000 RPM

Similar

Toyota Celica




Ford Mustang




MINI Cooper




Hyundai Tiburon




Mitsubishi Eclipse




Chevrolet Cobalt




Pontiac G6




Volkswagen GTI

Designer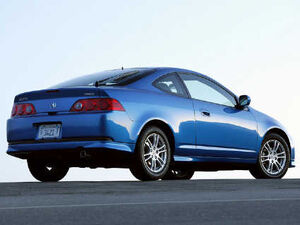 The Acura RSX is a successful sport coupe that was introduced into the Acura lineup in April 2001 to replace the previous model Integra. Owned by the Honda Motor Corporation, the Acura brand name has been Honda's luxury and near luxury car label in the United States, Canada, Mexico, and Hong Kong since March 1986. The Acura RSX has always managed to stay on top in its very competitive sport coupe class by providing excellent performance with pleasing luxury and build quality.
Appreciated by both the car enthusiast and the gear head, the Acura RSX can be seen on the road as both a classy sport coupe or a track-ready canyon carver. The Acura RSX suspension employs MacPherson struts in the front and double-wishbone suspension in the rear. The 155 hp K-series engine proves to have significant potential for tuning, a trait shared with the B-series engines previously employed in the Integra and certain performance-oriented Civic models. Like both the previous Integra and current Honda Civic Si, there is a booming performance aftermarket industry for the car and a large following of faithful RSX owners.
See Acura Wikis' comprehensive Acura RSX Review.
Recent Changes
[
]
Although the Acura RSX has been a strong seller for Honda since 2002, recently, Dick Collier (VP of PR at Honda Motor Co., Ltd) announced that there will be no 2007 RSX. Final units of the RSX have been slated to be built in the summer of 2006.
Reasons given behind the RSX model being dropped by Acura have been that it does not fit within the confines of Acura's re-structured market strategy. With the introduction of the similarly powerful and less expensive 2006 Honda Civic Si to the marketplace, Honda considers the new Si to be a more viable choice for performance minded young men, who are the most common buyers of RSXs.
It has also been speculated that a 2-door variant of the new Acura TSX will replace the RSX as their entry-level sports coupe. However, the rumored TSX coupe will be more luxurious, more expensive and more powerful than the RSX and will thus likely appeal to a slightly different market segment.
Styles and Major Options
[
]
The Acura RSX is available in 2 trims: the base model and Type-S.
Base
[
]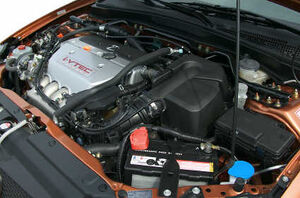 The base model comes standard with:
155 

hp

K20A3 motor
5-speed

automatic/manual transmission

Sport seat with cloth-trimmed interior
Dual trip meters
Power moonroof
AM/FM tuner, in-dash CD player, 6 speakers audio system
Power windows, door locks and hatch lock

Cruise control

Remote entry system

16-inch aluminum alloy

wheels

All-Season steel-belted radial

tires
Type-S
[
]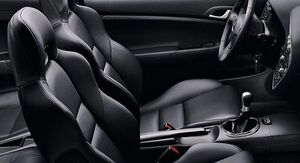 The Type-S includes sportier accessories and performance including:
201 

hp

K20Z1 motor
6-speed

manual transmission

Sport seats with leather-trimmed interior
Titanium finished

gearshift

knob
Acura/Bose AM/FM tuner, cassette, 6-disc in-dash CD changer, 7 speakers, including Richbass woofer audio system
17-inch aluminum-alloy

wheels

Body-colored hatch

spoiler

Sport-tuned

suspension

Billet-style exhaust outlet
Pricing
[
]
Today's actual prices by city can be found at CarsDirect.
Trims

Base 2dr Coupe

Type-S 2dr Coupe

MSRP

$20,325

$23,845

Invoice

$18,553

$21,758
Gas Mileage
[
]
EPA Estimates for various trims of the Acura RSX are as follows:
Trim

4 cyl., 2L, Manual

(5-speed), Regular gas

4 cyl., 2L, Manual

(6-speed), Premium gas

4 cyl., 2 L, Auto

(S5), Regular gas

MPG

27/34

23/31

25/34
Reliability
[
]
With a history of producing reliable cars, the Honda Motor Corporation has made sure to pass this tradition to the Acura RSX. General opinions point to the RSX as being an above average worry free car. Being that it is a sport performance car, it is bound to be subject to greater wear and tear than an average commuter, therefore it is understandable that greater mechanical wear would be present in test reviews. However, the maintenance history of the Acura RSX has always proved that it is able to avoid major costly mechanical failures. Autobytel.com gave the Acura RSX a 87/100 in both durability and mechanical quality. Msn Autos cited minimal problems in their test models and J.D. Power gave a reliability rating of 3 of 5 stars (about average in its class).
Safety
[
]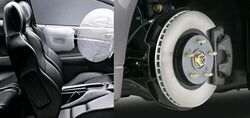 Both Acura RSX trims come standard with Front driver/passenger airbags, Front side airbags with passenger-side Occupant Position Detection System (OPDS), Child Restraint System (CRS) lower anchors and top tether brackets (LATCH), Impact-absorbing crumple zones (front and rear), Side-impact floor/door beams, Collapsible steering column, Impact-absorbing interior surfaces, 4-wheel disc brakes with anti-lock braking system (ABS).
The Acura RSX scored 5 of 5 stars in Driver/Passenger frontal crash testing and 4 of 5 stars in Driver side crash testing through NHTSA.
Photos
[
]
Colors
[
]
Exterior
[
]
The 2006 Acura RSX comes in the following exterior colors:
Alabaster Silver Metallic
Blaze Orange Metallic (Type-S only)
Jade Green Metallic
Magnesium Metallic
Milano Red
Nighthawk Black Pearl
Premium White Pearl (Type-S only)
Taffeta White (base only)
Vivid Blue Pearl
Interior
[
]
The 2006 Acura RSX comes in the following interior colors:
Main Competitors
[
]
Hybrid Models
[
]
Currently, Acura has no plans to offer a hybrid version of the Acura RSX. Their parent company Honda Motor Corporation will continue to offer the Honda Accord Hybrid, Honda Civic Hybrid and Honda Insight.
Unique Attributes
[
]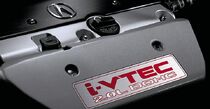 The Acura RSX's 4-cylinder K-Series engine features intelligent VTEC or (i-VTEC), which electronically adjusts valve lift, valve timing and cam timing, giving the 2.0L engine a flatter torque curve and smooth power transition relative to previous VTEC implementations which only adjusted valve lift and valve timing.
Resale Values
[
]
Because of its desirability as a compact sport coupe amongst driving enthusiasts, the Acura RSX maintains a high resale value. Its reliability and superior make also allow it to keep it from depreciating.
According to ConsumerGuide.com, "fairly strong resale values keep secondhand prices of the Acura RSX on the high side."
Criticisms
[
]
Bumpy ride (USA Today)
Loud road and tire noise (Edmunds.com)
Engine needs to be reved highly for performance (The Car Connection)
Styling is "Honda" generic and simple (The Car Connection)
Generations
[
]
Second Generation (2005-2006)
[
]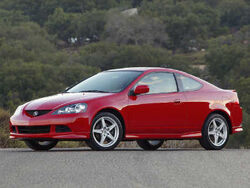 In the second generation of the Acura RSX, the 2005 Type-S engine was boosted from 200 to 210 hp thanks to more aggressive camshafts and a larger-diameter exhaust system. Also, the suspensions on both RSXs were retuned, firmer stabilizer bars were added, and ride height was lowered 7mm. The RSX was given better shoes with 17-inch wheels and bigger 215/45R17 Michelin tires for greater traction. And the steering system was given a quicker steering ratio with a stiffer column for enhanced feel and response.
The exterior was revamped with more aggressive styling by adding a more sporty front and rear bumper, redesigned headlight and taillight assemblies, a restyled signature 5-sided Acura grille, new side sill garnish, and four new exterior colors: Magnesium Metallic, Vivid Blue Pearl, Jade Green Metallic, and Blaze Orange Metallic.
Changes to the RSX interior included: more bolstered front seats, new chrome and titanium-looking accents, and meter faces changed from metallic to white.
The 2006 Acura RSX saw little changes. The color "Global Silver Metallic" was replaced by Satin Silver Metallic and because Acura started using new SAE testing procedures for hp/torque, the updated specs for the engine output were released as 155 hp (base model) and 201 hp (Type-S).
First Generation (2002-2004)
[
]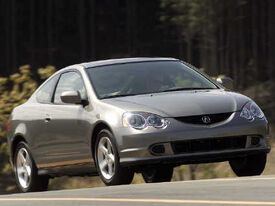 The first generation Acura RSX was introduced to the United States in 2002 to replace the Acura Integra in its 3rd generation. Sold in Japan as the 4th generation Integra, the RSX used versions of a new 2.0L twin cam four-cylinder engine. It had 160 horsepower, up from the 140 of the 1.8-liter engine in the last Integra LS and GS. The Type-S's 200 hp compared favorably with the Integra GS-R's 170 hp, or even the Type-R's 195 hp. The new chassis for the RSX would also be shared with the 2006 Civic and the platform would be the first entirely new entry-level chassis Honda had debuted since 1994.
In 2003, Acura added the new color "Redondo Red Pearl" to their RSX line up and a performance package for the Type-S. The performance package, called the "Factory Performance Package," included 17-inch wheels, slotted brake rotors, stiffened shocks and springs, and a spoiler.
For 2004, the RSX received standard heated side view mirrors and a new exterior color, with "Milano Red" replacing Redondo Red Pearl. In addition, the Factory Performance Package was renamed the "A-Spec."
Worldwide
[
]
In North America and Hong Kong, the Acura RSX was marketed as the replacement for the Acura-badged version of the Integra, however Honda continues to sell the vehicle as the Honda Integra in Japan, Australia, New Zealand, and elsewhere. (previously, the Acura nameplate appeared only in North America, elsewhere in the world the same models are sold as Hondas).
It is available in base and "Type-S" trim levels in North America, and a "Integra iS / Integra Type S" and "Type R" version sold Japan and Oceania. However, to add to the confusion, the "Type R" sold in Oceania is very similar to the "Type-S" sold in North America, and the Integra line naming in Oceania have recently been realigned so it's similar to North American conventions. In other places, (eg. Hong Kong, Singapore) only the base version is available.
The Honda Integra Type R, sold in Japan, Australia, and some other markets, has reduced weight, a 220 PS / 164 kW / 217 hp K20A engine (Japan-only; Oceania models have an engine similar to the Acura RSX-S), as well as a limited slip differential (LSD) and stiffer springs and shocks, Brembo brakes, 17" rims on Bridgestone Potenza tires, Recaro suede seats, body trim, and more.
Design quirks and oddities
[
]
Transformers:Alterators
Prowl and Camshaft transformered into Acura RSX Cars Prowl Is A Acura RSX Police Car and Camshaft is a Regular Acura RSX
Awards
[
]
Car and Driver's 10 Best list for 2002 and 2003.
Ohn Lingenfelter Memorial Trophy
Won the "Cheap Speed" comparison in Car & Driver against the

Dodge SRT-4

ACR,

Subaru Impreza WRX

,

Chevrolet Cobalt

SS, and the

Saturn ION

Redline.
Spike TV's "Autorox" car award for tastiest tuner.
Listed as one of Spike TV's top 52 cars of all time.
Edmunds.com 2001-2002 Sport Coupe Comparison Test, First Place
See also
[
]
External Links
[
]
Community Sites and Online Forums
This page uses content from Wikipedia; see Acura RSX, which includes these contributors.