Jurassic World: Dominion Dominates Fandom Wikis - The Loop
Play Sound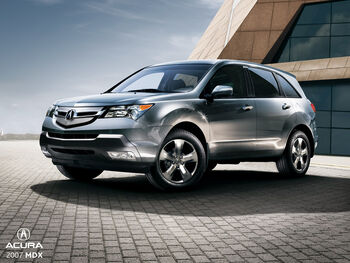 The Acura MDX offers an outstanding V6 powertrain, seven-passenger seating and an all-wheel-drive system that prevents skids almost before they happen. Neat styling, attention to detail, excellent crash protection and competitive pricing increase the appeal of this luxury SUV.
Introduced in 2001, MDX was named North American Truck of the Year by a panel of 50 independent automotive journalists. Through the five model years since, the MDX has been steadily improved in all areas.
The body has grown more rigid, allowing better vibration control and a smoother ride. Power has increased, and a more compact five-speed automatic transmission shifts even more smoothly than before. The MDX's four-wheel-drive system was remapped to work seamlessly with a Vehicle Stability Assist system to improve handling on slippery surfaces and to enhance stability in all conditions. Side curtain airbags covering all three seating rows were added, as were tire pressure monitors. Front and rear end styling has been redone, with a more aggressive edginess. Acura has updated the optional navigation system and added a rearview camera that engages when the transmission is in reverse. A DVD entertainment system with wireless infrared headphones is available. XM Satellite Radio and Bluetooth capability for compatible cell phones come standard.
For 2006, the interior has been upgraded, and the Touring edition receives ebony-tone, Zebra woodgrain and satin-chrome accents. Otherwise, the MDX returns for 2006 much as it has been: one of the best values in the class.
High Points
[
]
Excellent value for the $. Feels like a true luxury car in a SUV. Handles the road very well.
good fuel economy for a SUV, lot of use
Everything included for one price, great quality, performance, blue tooth, and great navi features
MDX handling is excellent, similar to a car. Overall performance a 10 for luxury
space, luxury features, 3rd row seating, easy-to-use navigation Car looks great, drives great. I can probably get 400+ mpg if I drove under 80 mph on the freeways
Fuel economy is good for a suv along with many features that are standard
I love the

GPS

feature, it gets me where I need to go and everything I need to see to see is there.
Low Points
[
]
Most would say MPG but not too bad considering it's weight
No turn signal lights on side mirrors(before 2007)
Needs more sleek interior
Requirement for premium unleaded.
Fully loaded model should include a sports pkg w/step rails
I at times find the driver seat not as comfortable as it could be particularly on long drives.
Could use extra horse power
Not the best fuel economy(17 City/22 Highway)
Performance and Handling
[
]
The Acura MDX offers an excellent balance of car and truck attributes. It has good highway manners. It corners well for a vehicle of its heft, though without the keen turn-in of the BMW X5. It rides lighter on its wheels than the Volvo XC90. Overall, the MDX feels extremely stable.
Its 3.5-liter, 24-valve VTEC V6 engine generates impressive power, and its five-speed automatic features gear ratios for towing and trail grinding. The shift gate could use a notch between D and 4, as the lever far too readily continues on into that lower gear when shifted out of P or R. Torque peaks at a very usable 3500 rpm with most of the 250 pound-feet available all the way to 5000 rpm. Yet the MDX delivers better fuel economy than most of its luxury SUV competitors, with EPA-estimated City/Highway ratings of 17/23 mpg.
In the paved world, the MDX can accelerate from 0 to 60 mph in less than 8 seconds. Its mesa-shaped torque curve means responsive acceleration around town and for merging and passing at any speed. Off road, it makes up for the absence of a transfer case and a granny gear with a regular low gear that is extra low. Although not up to Rubicon Trail-level ruggedness, venturing onto badly rutted forest service roads or trails leading to fishing sites and trailheads will not overtax it.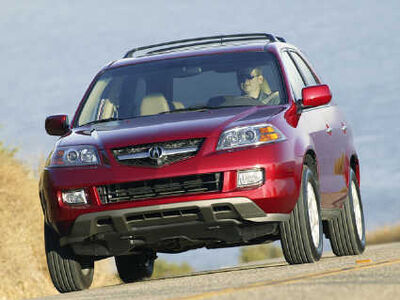 This SUV comes with a unique four-wheel-drive system, called VTM-4, for Variable Torque Management 4-Wheel drive. Most of the time, the MDX runs in front-wheel-drive mode for good fuel economy. Some all-wheel-drive systems primarily cruise in front-wheel drive, engaging the rear wheels when sensors detect front wheel spin. Not so the MDX. Slippage, the Acura engineers reason, predominantly occurs only under acceleration. And so the MDX initially allocates more power to the rear wheels than to the front wheels whenever the driver calls for acceleration, without waiting for slippage to occur. To get out of tough situations, Acura provides a button on the dash that locks the rear differential, progressively reducing the lock effect as speed increases and releasing it completely by the time the vehicle reaches 18 mph.
The MDX feels secure and much of that comes from a relatively firm suspension, firmer than that on the Lexus RX 330, for example. In tradeoff, the MDX feels a bit bouncier than the RX 330 on rough roads. It also lets more tire noise into the cabin. On pavement the MDX likes to understeer, by design. That means that if you're too fast into a corner, the front wheels begin to lose grip and want to go straight on at lower speeds than they do in the Infiniti FX35 or in the BMW X5. This encourages you to intuitively lift off the throttle and slow down. The steering is heavier than that in the Lexus, and we prefer that of the MDX. You can feel the wheel slightly tug on your hands when you accelerate hard, a phenomenon called torque steer, but it doesn't influence your heading. Directional stability is a bit lacking, requiring micro-corrections in steering both on straight roads and in sweeping curves.
The brakes are absolute standouts, responsive and secure, and everything is managed by Acura's Vehicle Stability Assist system. VSA works in concert with the brake systems' electronics, all-wheel-drive and electronic throttle to enhance control during acceleration, braking and cornering, orchestrating traction control, anti-lock braking and stability management. On slick roads, for instance, VSA will clamp the brakes on hard if you enter a corner too quickly, and pull the MDX tighter into the corner.
MDX also delivers 4500 pounds of boat-towing capacity, although only 3500 pounds of trailer-tow, due to the added aero-drag of boxy shapes; in both, it trails the XC90's 5000-pound rating.nd cargo flexibility at the top of the class. The finish inside is excellent, especially the rich wood-grain and satin-chrome interior trim in the Touring model. The materials are generally high grade, and the fit and matching of various panels is first-rate.
Gas Mileage
[
]
As reported by FuelEconomy.gov, the MDX gets 17mpg in the city and 23mpg on the highway. This ranks it 4th in the Luxury SUV category for fuel efficiency on [Autos.com].
Safety
[
]
The 2006 MDX achieved a five-star federal crash rating for front impacts and side impacts (the best, indicating a 10 percent or less chance and a 5 percent or less chance of serious injury, respectively) and a four-star in rollover (next to best, indicating a rollover risk of between 10 percent and 20 percent). The company also claims its SUV can be hit from behind by a vehicle going 35 mph without the third row of seats being breached. The MDX's comparatively high fuel economy ratings are a testimony to the efficiency of its design and engine technology, and all models sold nationwide meet the government's strict ULEV-2 emissions standards (Ultra Low Emissions Vehicle).
Reliability and Maintenance
[
]
The MDX has thus far proven itself to be a reliable vehicle, according to Automotive Information Systems. Minimal engine problems were rectified by 2003, and it was rated highly in every other category of inspection. The MDX is scheduled for a redesign for 2007, but with Acura's impeccable maintenance record, it shouldn't see much variation in its history of reliability.
Interior and Comforts
[
]
Airy, perforated leather adorns the front and second row seats, side panels, steering wheel and shift knob. There is nothing swoopy or eye-popping about the instrument panel, just easily read instruments with an unobstructed view. Simple, large knobs are easy to operate whether that hand is wearing gloves or has long fingernails. The overall sense is the serenity of simplicity.
The air bag fits flat into the top of the passenger-side dash, where it deploys first up and then back toward the passenger, a sequence some crash analysts believe provides the most effective protection in frontal collisions.
Attention to detail is evident throughout. The sun visors have extensions for those sharp shafts of sun angling low at dawn and dusk. The roof-mounted grab handles don't go CLUNK against the ceiling when released; they whisper their damped way back into place. The beverage holders are engineered specifically for the seats they serve, with those in the rear configured to hold larger soda and water bottles and rectangular juice boxes and those in the forward areas with multi-tiered, stepped bottoms to fit containers of different sizes and rubber lips to corral tipping cups.
Automatic headlights and an auto-up feature for the driver's window are standard. The back-up video camera with the navigation system is an extremely useful feature, helping the driver detect hard-to-see obstacles.
Third-row seats in the MDX are relatively easy to get into, but the back row is best suited for young children or people of small stature, as there's very little space for legs and feet. We see these seats as good for only occasional use, not regular use. A convenient walk-in feature slides the MDX's entire second seat forward with the touch of a lever, located on the curb side. When not in use, both the second and third rows fold to leave a flat surface with no protrusions to scratch luggage or inhibit cargo loading. The seats split for a varied mix of people and stuff.
And with those second and third seats stowed, there's room for a ton of stuff. With 81.5 cubic feet of cargo space, the MDX dwarfs five-passenger competitors such as the BMW X5 (54.4 cubic feet) and Infiniti FX (64.5). It beats all but the Volvo XC90 (85.1 cubic feet) among seven-passenger competitors. And thanks to its space-efficient design, the MDX offers more cargo room when all three rows of seats are in place (14.8 cubic feet for MDX vs. 11.1 for XC90), plus a couple hooks for grocery bags off to each side and a concealed, under-floor storage bin. A thoughtful touch is room enough for a full-size tire in the space storing the compact spare tire.
The split air-conditioning system is one of the more impressive features. Not only can those in back have a different temperature than the front-seat riders, but one zone can get heat while another gets air conditioning.
Acura makes excellent navigation systems. We liked this one for its graphic clarity and intuitive simplicity. Indeed, this is easily one of the best GPS-guided systems going. The database is expansive, so if you want to pick up some cash, make a stop at the nearest Chinese take-out and then locate an emergency room for your over-indulgence, it is all at your beck. A novel capability, and one uniquely appropriate for a vehicle equipped to seek out uncharted outbacks, is a feature that leaves electronic bread crumbs on screen. No road visible under the little wedge-shaped marker that represents your vehicle? Not to worry. Acura's navigation system leaves a line that you can easily retrace back to where there be no more dragons.
Exterior
[
]
The Acura MDX won't draw a gasp for unique design or beauty of line. It looks sturdy and stable with a wider, firmer stance than some competitors. But buyers who measure their lives on the look-at-me scale should shop elsewhere.
The signature Acura grille forms the centerpiece for the tapered front end. The MDX's angular headlights house projection-type beams. An aerodynamic chin spoiler integrated into the front bumper directs air smoothly to the sides of the car. The rear end sports large taillights and dual exhaust tips.
In other words, the MDX still looks like an MDX. Limited overhang at either end contributes to a dense, compact demeanor that belies this SUV's heft and somewhat exaggerates the size of the MDX's mid-section. Some believe the large greenhouse adds to the straightforward sense and strong presence. Others claim it makes the MDX seem more like a minivan than a big SUV. We say, both.
What's most interesting, and isn't obvious except in a body-off view, is the duality of construction under the MDX. It is both unibody and body on frame. This approach gives uncommon rigidity and strength gained from longitudinal rails with eight box-section cross members. It's the thinking engineers' path to making a car/truck both a car AND a truck, whichever is appropriate to the occasion. The hoped-for effect is noise, vibration and harshness control on par with a car and load and stress management characteristic of a truck. Within the MDX frame, there's even a vent tube that wicks moisture away from the differential when the vehicle is sitting in 18 inches of water.
Styles and Options
[
]
The 2006 Acura MDX is offered in a single trim level, powered by a 3.5-liter, 253-hp V6 (Acura horsepower ratings are based on a recently revised SAE protocol and are not directly comparable to previous ratings) mated to a five-speed automatic transmission.
The MDX ($37,125) comes standard with a long list of luxury and convenience features, including automatic, dual-zone, front/rear climate control; first and second row leather seating surfaces and leather door inserts; eight-way power driver's seat; heated front seats; keyless remote entry; power windows, door locks and heated mirrors; power tilt-and-slide moonroof; cruise control; seven-speaker AM/FM/cassette stereo with in-dash CD player; XM Satellite Radio (three months prepaid); programmable remote opener; alloy wheels; fog lamps; and a multi-function digital trip computer.
The Touring package ($2825) upgrades the stereo to a 225-watt, eight-speaker, Acura/Bose music system with in-dash six-disc CD changer and XM Satellite Radio; a two-position driver's seat and mirror memory system linked to the keyless remote; eight-way power front passenger seat; Bluetooth; roof rack; a right-hand, outside mirror that tilts to track progress while backing up; rain-sensing windshield wipers; and special alloy wheels.
Acura's DVD Entertainment System ($1500) for rear-seat passengers adds a seven-inch widescreen display that flips down from the ceiling at the push of a button. The system comes complete with two infrared wireless headphones and a wireless remote control. Kids dig it, and with the DVD player up front in the base of the center stack, parents control what's watched.
The DVD-based Navigation System ($2750, available only with the Touring package) needs only one disc to cover the entire continental U.S. It comes with voice recognition and three months' prepaid subscription to OnStar's basic service (emergency assistance and airbag deployment monitoring); the full OnStar package, with route support and concierge service, is optional ($399/year). The system incorporates a rearview camera that transmits pictures from behind the vehicle onto the navigation screen when the MDX is in reverse gear.
Standard safety features comprise the required dual-stage front airbags, three-point seatbelts and adjustable head restraints for all seating positions and child safety seat anchors (LATCH) in rear seats. In addition, fitted to all MDXs are front seat-mounted side airbags that protect occupants' upper body in side impacts and side curtain airbags covering all three rows of seats that insulate against head injury in rollovers as well as side impacts. A standard tire pressure monitoring system uses sensors in the valve stem of each wheel to alert the driver when tire pressure drops significantly below the recommended level. The MDX also comes with antilock brakes, electronic brake force distribution (which balances front-rear brake application depending on speed and vehicle load) and brake assist (which optimizes brake application in emergency stops). These active safety features can help the driver avoid a wreck.
External Links
[
]
Acura MDX - specs, photos, pricing, reviews, etc.