Jurassic World: Dominion Dominates Fandom Wikis - The Loop
Play Sound
Acura Integra
Honda
aka
Honda Integra
Production
1986-2001
Class
Entry-level luxury car
Body Style
3-door hatchback
4-door sedan
5-door hatchback
Length
172.4 in (hatchback)
178.1 in (sedan)
Width
67.3 in
Height
52.6 in (hatchback)
53.9 in (sedan)
Wheelbase
101.2 in (hatchback)
103.1 in (sedan)
Weight
Transmission
Engine
1.8 L I4
Power
Similar

Mercury Cougar

(1999-2002)


Honda Prelude

Designer
The Integra, sold as an Acura in North America, and as a Honda elsewhere, was a small, sporty vehicle sold both as a 4-door sedan and as a 3-door hatchback. It was Acura's smallest and least expensive model produced, designed to offer a competitor to vehicles like the Volkswagen Golf GTI, which was the most well known and popular "hot hatch" of the 1980s when the Integra was introduced. Although a sedan was available for the first three generations of the Integra, it was dropped when the vehicle transitioned to its fourth generation "DC5" platform, sold as the Acura RSX in North America. Enthusiasts refer to the Acura TSX as the second coming of the Integra GS-R sedan. Under the Honda line up, the Integra was near the middle, slotting above smaller cars such as the Honda City, the Honda Civic, and the Honda Logo. The Honda Integra was considered to be a mid-sized car by Japanese standards.
First Generation(1986-1989)
[
]
First generation
Production
1986–1989

Body style

3-door

hatchback


5-door

hatchback


4-door

sedan

Engine

1.5 L EW
1.6 L ZC

Transmission

5-speed

manual


4-speed

automatic

Wheelbase

3-door: 2450 mm
5-door: 2520 mm
Length
3-door: 4285 mm
5-door 4335 mm
Width
1665 mm
Height
1290 mm
Related

Honda Civic




Honda CR-X
The vehicle debuted in Japan in 1985 as the Honda Quint Integra before going on sale a year later in North America as part of the all-new (at the time) Acura lineup. The Integra was offered in two configurations: 3-door hatchback (coupe) and four-door hatchback (sedan). A high-revving 1.6-liter DOHC 16-valve engine powering both variations. The engine was the vehicle's most publicized feature, as DOHC, multi-valve engines were anything but commonplace in entry-level models at the time.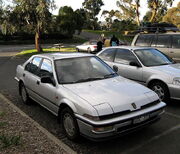 The Integra was based on the less-sporty Civic, although it featured a small list of key upgrades over its lesser stablemate to help merit a price increase over the CRX Si, which was otherwise the sportiest compact vehicle being offered by Honda/Acura; enlarged 4-wheel disc brakes replaced the small front-disc/rear-drum setup used by the Civic and CRX, suspension calibration was re-worked, better tires were used and a 113 hp DOHC fuel injected 16-valve engine was used in place of the SOHC, 108 hp unit from the CRX Si. Combined with sleeker styling and a nicer interior, buyers were effectively convinced that the Integra was worth the extra money, and nearly 228,000 units were sold during the four year run of the first generation model. The first generation Integras actually came with two different engines. Although they shared the same engine code (D16A1), there were a few differences. The engine differed in the years 1986 to 1987 and 1988 to 1989. The two engines are commonly called the "Browntop" and "Blacktop" due to the color of their valve covers. The "browntop" came in 1986 and 1987 Integras while the "blacktop" came in 1988 and 1989 models. The improvements in the "blacktop" engine included lighter rods, domed pistons for slightly higher compression, and an electric advance distributor (the "browntop" came with a vacuum advance distributor). The overall gain in performance was about 5 hp to 118 horsepower. The original Integra was not without its shortcomings though; despite having 113 hp and a reachable 7000 rpm redline, the new DOHC engine had little torque and needed to be wound up quite a bit to make full power, leading to criticism that the model wasn't well-suited for day to day driving on surface streets, but was better tuned for spirited driving down tight, windy roads.
Second Generation(1990-1993)
[
]
Second generation
Acura Integra hatchback
1990 Acura Integra sedan
Production
1989–1993

Body style

3-door

hatchback


4-door

sedan

Engine

1.6 L ZC
1.6 L B16A
1.7 L B17A1
1.8 L B18A1
1.8 L B18B

Transmission

5-speed manual
4-speed automatic

Wheelbase

Hatchback: 2550 mm
Sedan: 2600 mm
Length
Hatchback: 4390 mm
Sedan: 4485 mm
Width
1990: 1712 mm
1991–93: 1715 mm
Height
1990 Hatchback: 1325 mm
1990 Sedan: 1340 mm
1991-93 Hatchback: 1270 mm
1991-93 Sedan: 1285 mm
Related

Honda Civic




Honda CR-X




Honda CRX Del Sol




Rover 400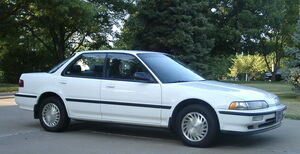 Acura debuted the second generation Integra in 1990, now powered by a new 1.8 L engine making 130 hp, giving the model a necessary boost in performance. The three-door hatchback and 4-door sedan body styles continued to be available, but the 5-door hatchback was discontinued due to poor market reception. Trim levels for 1990 and 1991 included the RS (base model), LS, and GS. The 1991 GS could also be had with a leather interior, which made it a sort of "deluxe" model, and featured its own model number. For 1992, Acura added the GS-R trim level, powered by a stroked 1.7 L version of the very successful B16A engine, called the B17A, already in use in the Japanese-market Integra. It featured a VTEC system, as found in the then-new NSX, bumping output to 160 hp. Other features exclusive to the GS-R include the charcoal grey cloth interior (leather as a rare option), body-colored trim and front lip, and the third brake light mounted in the spoiler. Sunroof, power everything, and 14 inch 6-spoke aluminum wheels came standard as well. The 92-93 Acura Integra GSR is the rarest Integra to date (if not one of the rarest Acura/Hondas in general) because of its B17A engine, low production numbers, and unavailability in the used car market. This model Integra holds its retail value extremely well because of its rarity. The 92-93 GSR was available in only three colors: red, white, and teal. Other small updates came on to all trim levels in 1992, namely new front and rear bumpers, a new steering wheel, new taillights, new ECU, chromed interior door handles and an increase in power to 140 hp for the non-VTEC engine. The second generation was the last Integra to be sold without airbags in the United States. Motorized passive seat belts were used instead. Canada and the rest of the world got regular active seat belts. This generation also saw Acura make a bit of a marketing shift. Prior to the 1991 model year, Acura had made a minor point of the supposed understated elegance of minimal exterior badging. Therefore, from 1986 to 1990, the only external clues to any Integra's identity came at the rear, where badges for "Acura" "Integra", and the trim level appeared. For the 1991 model year however, Acura's "A" logo appeared for the very first time on the front of the hood, as well as between the taillights. Every Integra made since then has had the "A" badges. 262,285 units were sold from 1990 to 1993.
Third Generation(1994-2001)
[
]
Third generation



Production
1993–2001

Body style

3-door

hatchback


4-door

sedan

Engine

1.6L ZC
1.8L B18B, B18B1
1.8L

B18C

, B18C1, B18C5

Transmission

5-speed close ratio manual
4-speed automatic (with 2000 rpm torque converter)

Wheelbase

Hatchback: 2570 mm
Sedan: 2620 mm
Length
Hatchback: 4380 mm
1994-2001 Sedan: 4525 mm
2000-01 GS-R Hatchback: 4425 mm
Width
1710 mm
1998-99 Type-R Hatchback: 1695 mm
Height
1994-95 Hatchback: 1290 mm
1994-96 Sedan: 1325 mm
1996-99 Hatchback: 1335 mm
1996-2001 Sedan: 1370 mm
1998-99 Type-R: 1320 mm

Curb weight

2463 lb
Related

Honda Civic




Honda CR-V




Honda CRX Del Sol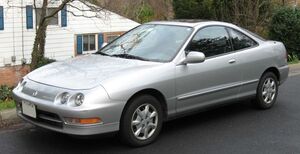 Zenki (former) (1994–1997)
[
]
Honda debuted the third generation model in 1993 in Japan. Acura followed in 1994. It had an unusual four headlight front end design which was dubbed "bug eyes" by some enthusiasts. Standard power increased to 142 hp, and the GS-R received a dual-stage intake manifold and a displacement boost to 1.8 L, bringing power up to a 170 hp.
In 1995, Honda redesigned the Integra when the new Integra Type-R was released. In Japan the redesign had two more conventional looking headlights as the bug eye look had proven unpopular, outside Japan it had a slightly revised version of the four headlight front. A Type R model was added for the 1995 model year in Japan and in 1997 in other markets, powered by a highly tuned, hand-finished variant of the GS-R's engine, producing 195 hp, meaning it made more hp per L than the Ferrari F355's V8. Although impressive, the Type R was still hampered by some criticism; its maximum torque output of only 130 ft·lb at 7000 rpm meant that the engine would perform best from 5700 rpm up to the 8400 rpm redline. Although the engine's "split personality" and unusually high capability to rev made it popular among hardcore enthusiasts, it cost the vehicle points in comparison tests where drivers noted that the vehicle was too hard-edged, loud and rev-hungry to be an easy daily driver.
Kouki (latter) (1998–2001)
[
]
Despite some popular demand for a new Integra model for 1998, Acura chose to give the third generation model a slight facelift and re-release it. The 1998 Integra had slightly larger headlights, a more aggressive front bumper, all-red taillights, and a revised rear bumper. There were also some minor cosmetic changes to the interior, and small revisions to the electrical and mechanical components. The GS-R edition received 6-spoke "blade" style wheels as a stylistic change. Once again, the Type-R saw a limited release in the US.
Fifth Generation (2022-)
[
]
Mid 2021 Acura announced the return of the Integra. It will be released 2022, have at least a five door model, and be a premium sport compact. Two teaser images have been released, one showing an angular front headlight, the other showing a back with four doors, a swooping design, and taillights to match the front. In a video, Acura also announced it will have a 6-speed manual.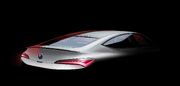 Type R
[
]
The Type R was the pinnacle of the Integra line. It had many exclusive features found on no other Integra.
The Type R's B18C5 engine contained more key differences than just some manual assembly steps and an increased redline. The B16A's cylinder head returned, with differently shaped combustion chambers and intake ports compared to the regular B18C in the GS-R. Molybdenum-coated, high compression pistons and stronger-but-lighter connecting rods strengthened the reciprocating assembly. Two extra counterweights on the crankshaft altered its vibration modes to enhance durability at high RPM. The intake valves were reshaped with a thinner stem and crown that reduced weight and improved flow. The intake ports were given a minor port and polish. Stiffer valve springs resisted float on more aggressive camshafts. Intake air was now drawn from inside the fender well, for a colder, denser charge. That intake fed a short-runner intake manifold with a larger throttle body for better breathing. An improved stainless steel exhaust collector with more gentle merge angles, a change to a larger, consistent piping diameter, flared internal piping in the muffler allowed easier exit of gases. A retuned engine computer also contributed to improve power output.
The transmission was upgraded with lower and closer gear ratios in second through fifth gears, in order to take advantage of the additional rev range. The North American version retained the same 4.4 final drive throughout the Type R's production run, unlike the Japanese version, which in 1998 changed to a 4.785 final drive along with revised gearing. The GS-R's open differential was replaced with a torque-sensing limited slip type.
The chassis received enhancements in the form of reinforcements to the rear wheel wells, roof rail, and other key areas. "Performance rods", chassis braces that were bolted in place, were added to the rear trunk wall and rear subframe. The front strut tower bar was replaced with a stronger aluminum piece. Camber rigidity was improved at the rear by increasing wheel bearing span by 10 mm. The Type R's body also received a new functional rear spoiler, body-colored rocker panels, and 5-bolt hubs with special lightweight Type R wheels. Under those wheels was a much larger set of disc brakes, front and back. The tires were upgraded to Bridgestone RE010 "summer" tires.
The Type R received very aggressive tuning in its suspension settings. All soft rubber bushings were replaced with much stiffer versions, as much as 5.3 times higher in durometer readings. The springs and dampers were much stiffer, with a 10 mm reduction in ride height. The rear anti-roll bar diameter was increased to 22 mm in diameter. The front anti-roll bar retained the same size, although the end links were changed to a more responsive sealed ball joint as opposed to a rubber bushing on the lesser models. The result was a chassis with very responsive, racetrack-ready handling that ably absorbed mid-corner bumps. Mild oversteer was easy to induce with a lift of the throttle, and during steady-state cornering the car maintained a slight tail-out stance.
Several features were removed to reduce weight. There was no cruise control or sunroof. The air conditioning system was optional, and nearly all the sound-dampening material was eliminated. This provided for a much noisier ride, but since the Type R was marketed as a race car for the street, most owners didn't mind. The 1997 models had no rear wiper; this feature was reinstated for the 1998 and later model years.
Visually, the Type R's distinguishing exterior features are the color (white on 1998 and earlier cars, black or yellow on 2000 and 2001 models), the aerodynamic enhancements (front air dam, rocker panels, and rear spoiler), and the Type R alloy wheels. The interior was fitted with unique upholstery on the seats (black cloth with red stitching), fake carbon fiber trim around the gauge cluster, a six-speaker Bose stereo system, and a numbered plaque on the center arm rest. Each car also came with a special Type R key in addition to the two master keys and the valet key.
301,103 Integras were sold from 1994 to 2001.Template:Fact
Replacement
[
]
Main article: Acura RSX
The fourth generation Integra, produced from 2001 to 2006, was renamed the Acura RSX. The new name conformed to Acura's new naming scheme for all cars in its lineup (e.g. NSX, TSX, MDX, etc). It also had an entirely new engine, the K-series. The RSX nameplate was unique to Acura, however, meaning that the fourth generation Integra was still badged as an Integra outside of the United States and Canada.
In May 2006, Honda discontinued the RSX. 2006 marked the final model year for the Integra/RSX. Rumors are circulating that Honda wants to move the Acura brand more upmarket, and is considering a coupe version of the TSX in place of the RSX. The TSX is based on the Japanese Honda Accord.
Awards
[
]
The Integra was on Car and Driver magazine's annual Ten Best list six times, in 1987, 1988, and 1994 through 1997. The GS-R model was called out specifically in 1994 and 1995. It made a return on the Ten Best as the Acura RSX, for 2002 and 2003.
The Integra Type-R (DC2) was named as the best front-wheel-drive drivers' car ever by Evo Magazine in 2006. The magazine's Richard Meaden said: "It's a car as sweet and all-consuming as any I've experienced at any price, and as pure and focused in its own way as any Porsche RS. Forget the accolade of greatest front-wheel-drive car. The Integra Type-R ranks as one of the truly great drivers' cars of any kind."
See Also
[
]
External Links
[
]